Attention!
The product has been discontinued. Check other products incategory.
Product description: Sensor for testing drone smog - Carrier II
Aprofessionalsensorfortesting the pollutants emitted by chimneys - Nosacz II. The sensor is the result oftwo years of researchrelated to the increasing emission of harmful pollutants, which is the result of burning inappropriate fuels in furnaces. The sensor is mounted on the bottom of the drone. The sensor takes and then analyses a sample of the smoke that is emitted from the emitter. After analysis, the sample is sent to a ground-based outdoor unit, where it is clearly displayed to the user. Currently, the sensoris used in many larger cities, by authorities such as the Municipal Police.

The Nosacz II smog sensor is mounted on a drone.
Thoughtful design and compatibility
Nosacz II is afully Polish design and production. The design of the sensor has been thought out and made in such a way that its weight is as low as possible and has the least impact on the life of the battery used to operate the drone. The sensorweighs only 650 grams andis ready towork after 90 seconds.The DJI Carrier II can be mounted on the following DJI brand drones:
DJI Matrice 600

DJI Matrice 600 PRO

DJI Matrice 200

DJI Matrice 210

DJI Matrice 210 RTK
The sensor is mounted on the underside of the drone, using the SkyPort (for 200 series drunks) and the adapter (for 600 series).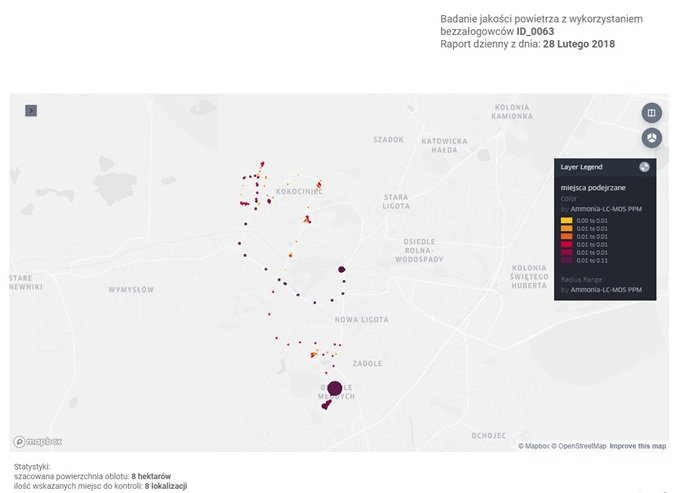 Map showing measurement points of the Nosacz II sensor.
Sensor operation in practice
When activated, Nosepiece II is ready for use after a maximum of 90 seconds. The user is informed by means ofan LEDon the housing. A drone with a mounted sensor flies up to the source of the extraction of pollutants and with the help of the probe takes a sample, which is analyzed and then transmitted andgraphicallypresentedon an externalground unit. All information and flight parameters are stored on the memory card and in the cloud. Using the Nosacz II sensor we can create so calledsmog mapsshowing the most polluted areas.
Substances detected by the sensor
The Nosacz II sensor has been designed to detect the most common substances associated with combustion of the wrong type of fuel. This allows you toquickly and easily detect whethersuch waste as plastic bottles, polystyrene, PVC elements or wet wood is burned. In addition, the sensor can be extended with five additional sensors that are able to detect: hydrogen sulfide, ammonia, hydrogen chloride, carbon monoxide, carbon dioxide, methane, lpg gas or hydrogen.
| Test substance | Unit | Measurement range | Accuracy |
| --- | --- | --- | --- |
| PM10 particulate matter | ppm | from 0 to 5000 | 1 |
| PM2.5 particulate matter | ppm | from 0 to 5000 | 1 |
| PM1 suspended particulate matter | ppm | from 0 to 5000 | 1 |
| Volatile organic compounds LDOs | ppm | from 0 to 100 | 0,01 |
| Formaldehyde HCHO | ppm | 0.01 to 5 | 0,01 |
| Temperature | °C | from - 40 to +80 | 0,5 |
| Humidity | RH | from 0 to 100 | 0,1% |
Included
Nosacz II is included:
Sensor Nosacz II
Ground station
Measuring probe
x2 antenna
Suitcase
Protection of anti-vibration plate for DJI M200
Charger (Ground station requires a separate USB charger)
Display mounting adapter for DJI control units
Sensor specifications Nosacz II
Power supply: 12 V to 20 V
Battery life: 3.5 hours
Working time of the drone: identical to that of the drone
The battery: 6600 mAh Li-Ion8.4V
Probe length: 0.5 m or 1 m
Pump capacity: from 12 l/min to 15 l/min
Sampling period: 1 s
Ports:

USB (charging)
microSD
GPS (UART)
Antenna
XT30 for external power supply

LED indicator
Housing: nylon, resistant to chemicals
Range: >500 m
Communication: radio, 433 MHz
Fixing:

SkyPort (DJI Matrice 200)
Adaptor for gimbal (DJI Matrice 600)

Dimensions: 180 x 96 x 73 mm (without antenna and measuring probe)
Weight: 650 g
Ground station specifications
The battery: 1700 mAh Li-Pol3.7V
Battery life: 8 hours
Charging time: 2 hours
USB port for charging
Housing: nylon, resistant to chemicals
Communication: radio, 433 MHz
Range: >500 m
Diagonal display: 3,5''
Resolution: 480 x 320 px
Interface: touch