Attention!
The product has been discontinued. Check other products in category.
Item description: signal Generator sine / rectangle DDS AD9850 40MHz
The module can generate the following signals: 2 x sine, 2 x rectangular with frequency up to 40 MHz. The system communicates via a serial bus, or by sending the bits in parallel. The maximum frequency of the generated signal is 40 MHz, the command word consists of 32 bits. It is supplied with the voltage of 3.3 V or 5 V.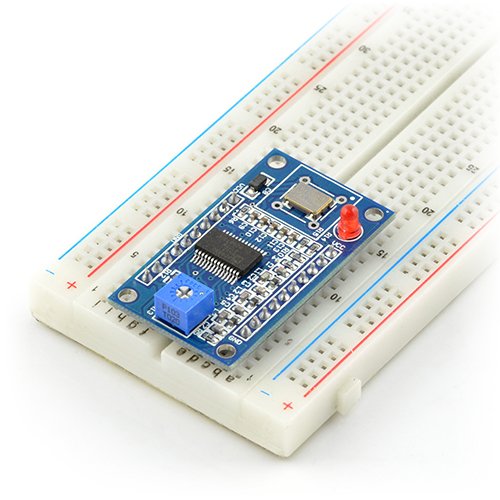 Technical characteristics of the generator
Supply voltage: from 3.3 V to 5 V
Communication: serial interface or a parallel bus is 1 byte
Potentiometer to adjust the rectangular fill
Outputs:

2 x sinusoidal signal
2 x rectangular signal

Conclusions: connectorsgoldpin raster 2.54 mm
Four mounting holes 3 mm in diameter
Module dimensions: 45 x 25 mm
Connection
The module has solderedconnectors goldpin raster 2.54 mm, which allows you to connect it tothe breadboard or via connectingwire.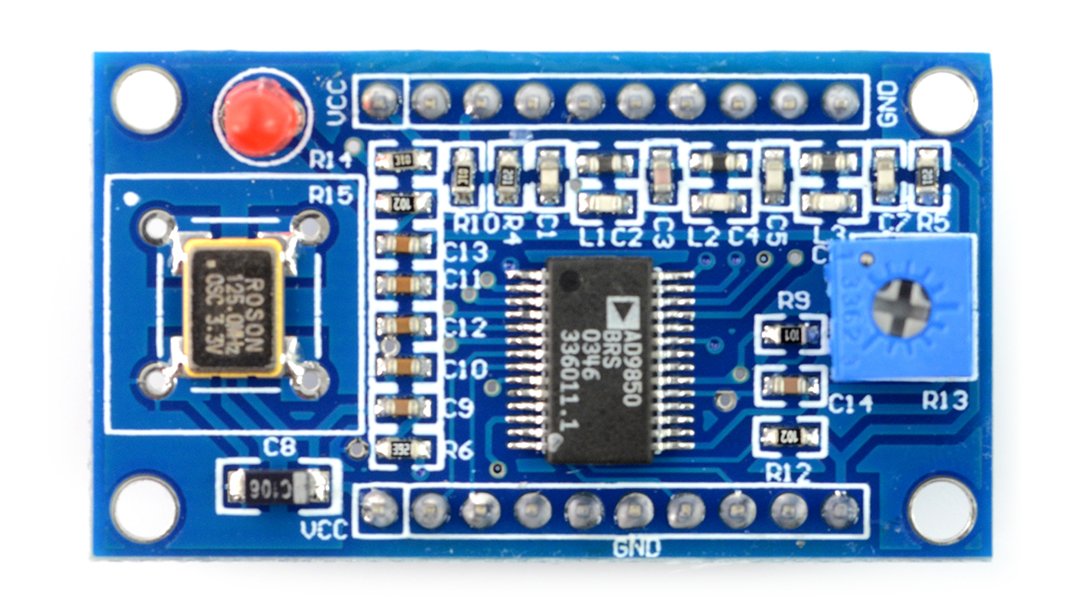 | Pin | Description |
| --- | --- |
| VCC | Supply voltage from 3.3 V to 5 V. |
| GND | Module's ground |
| W_CLK | The clock signal of the communication bus. |
| FQ_UD | Changing the frequency, if a rising edge appears on this pin, the system will update the frequency to the value specified in the input register. |
| DATE | The data line of the serial interface. |
| RESET | Reset the module, a high signal removes the data from all registers of the system. |
| D0-D7 | 8-bit bus parallel: D0=LSD, D7=MSB. |
| ZOUT1 | The output signal of the sine signal No. 1. |
| ZOUT2 | The output signal of the sine signal No. 2. |
| QOUT1 | The output of the rectangular signal No. 1. |
| QOUT2 | The output of the rectangular signal No. 2. |
| Potentiometer | Used to adjust the fill of the rectangular signal. |