Attention!
The product has been discontinued. Check other products in category.
Description
Particle Photon is a board designed for IoT projects, based on STM32ARM Cortex M3 microcontroller withCypress BCM43363 WiFichip. It has1 MB of Flash memory and 128 KB of RAM. On board isLED and18 GPIOs.The module is powered with the voltage offrom 3.6 V to 5.5 V. The board can be powered via USB port or goldpin connectors. 
The Wi-Fi communication
Thanks to the installed wi-fi module, the user can in a simple way, connect with a network. The system is compatible with standard 2.4 GHz IEEE 802.11 b/g/n, supportssecurities: Open, WEP, WAPI, WPA and WPA2-PSK.
Programming
The device works with the software in the particles.io. Detailed information about the programming and maintenance of wi-fi is available inthe documentation.
Pins of the RedBoard Photon work with a voltage of 3.3 V.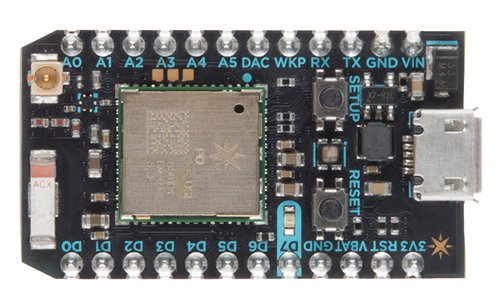 The distribution of elements on Photon board.
Specification
VIN supply voltage: 3.6 V to 5.5 V
Voltage of a USB power: 5.0 V
Integrated wi-fi standard 2.4 GHz IEEE 802.11 b/g/n
Supports security modes: Open, WEP, WAPI, WPA and WPA2-PSK
Programmed via microUSB
The whole is made in SMD technology
MCU: Cortex M3 STM32F205ARM
Maximum clock frequency: 120 MHz
SRAM: 128 KB
Flash memory: 1 MB
Pins: 18
Analog inputs
Photon pins work with a voltage of 3.3 V