Description
Set of 13 popular modules compatible with Arduino tiles. The set includes: flame, color, soil moisture, rotation, sound, liquid level and many others sensors. The sensors are supplied with appropriate cables with female connectors. Also included is an extension cap for Raspberry Pi - ARPI600 .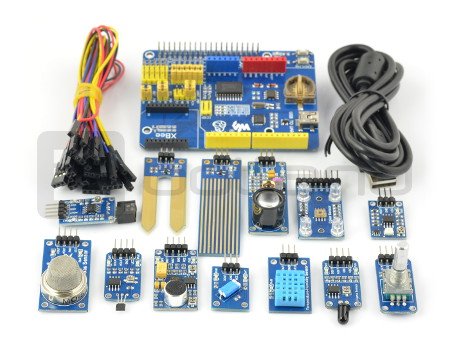 Also included in the set is a cap for the Raspberry Pi and aset of cables.

The set is designed for Raspberry Pi in 3B, 2B, B+ and A+ versions. It allows you to learn how to use different modules and sensors in combination with the Raspberry minicomputer.
The kit includes:
| L.p. | Photo | Description |
| --- | --- | --- |
| 1 | | ARPI600 - expansion module in the form of an overlay for GPIO connectors of Raspberry Pi A+, B+ or 2B mini-computer. It allows to connect Arduino Shields to Raspberry. It also has a RTC clock, A/C converter (11-channel, 10-bit), XBee interface, UART interface, etc. |
| 2 | | LPG sensor MQ-5 - detects LPG, natural gas and carbon monoxide. |
| 3 | | Color sensor with TCS3200 chip - detects color. |
| 4 | | Flame detector - the range of detected wavelength: 760 to 1100 nm. |
| 5 | | Linear Hall effect sensor - has a variable sensitivity level. |
| 6 | | Infrared reflective sensor - has a variable degree of sensitivity. |
| 7 | | Optical, digital distance sensor - effective measuring range: 80 cm. |
| 8 | | Soil moisture sensor - detection depth: 38 mm. |
| 9 | | The rotation sensor - encoder - has 20 steps per revolution. |
| 10 | | Sound sensor - operates in the range from 50 Hz to 20 kHz. |
| 11 | | Temperature and humidity sensor - has a temperature range from 0 to 50 °C and humidity from 20 to 90 % RH. |
| 12 | | Tilt/shock sensor - communicates digitally with the microcontroller. |
| 13 | | Ultraviolet sensor - has a detection range from 200 to 370 nm. |
| 14 | | Liquid level sensor - allows detection up to 48 mm deep. |
| 15 | | Connection cables with female connectors - 2.54 mm raster. |
| 16 | | USB cable - microUSB and USB-miniUSB cable. |
| 17 | | SanDisk Ultra 533x microSD 16GB 80MB/s UHS-I class 10 memory card with an adapter. |
| 18 | | MicroSD memory card reader. |
| 19 | | |