Attention!
The sale of the product has been completed. Check others in thiscategory.
Product description: Pololu D24V6AHV - step-down 4 V - 25 V 0.6 A
Dimensions: 23 x 17 x 5 mm
Cable length:
Cables to the motor: 55 mm
Wires to the package: 75 mm
Cable to the receiver: 95 mm
Weight (with wires): 8 g
Operating current: continuous 10A / 10 min
Max. operating current (peak): 15A
Plug in the receiver: type JR
Number of cells: 2 - 3 LiPo
Operating voltage: 7,4 - 11,1V
Built-in functions: brake programming, timing
Polol D24V6AHV - 4 V - 25 V step-down converter 0.6 A
The module has four outputs:
VIN- input voltage,
GND- mass potential,
VOUT- output voltage,
SHDN- system shutdown.
If theSHDNpin shows a low state (below 0.3 V), the inverter is switched off and the current consumption does not exceed 20 uA. If the high state (above 2.3 V) appears on the SHDN pin, the system will be activated again. The output can be permanently connected to the VIN or left unconnected if the shutdown mode is not used.
The connectors are properly signed on the board. The output roster is 2.54 mm (popular goldpin connectors). The module can be plugged intoa contact board, connected withwiresor soldered into a dedicated PCB.
Output voltage is determined by means of a potentiometer. Setting the voltage higher than input will not damage the system. However, large oscillations will occur. So it is recommended not to set the voltage higher than the input one.
Output voltage selection
Turning the potentiometer clockwise will increase the output voltage.
Efficiency and output current
Efficiency is defined as the ratio of output power to input power (Power out)/(Power in). This is a very important parameter in the case of operation with portable power sources (batteries and accumulators), where the time of operation on one charging cycle counts. The efficiency dependence on the input voltage is shown in the graphs below.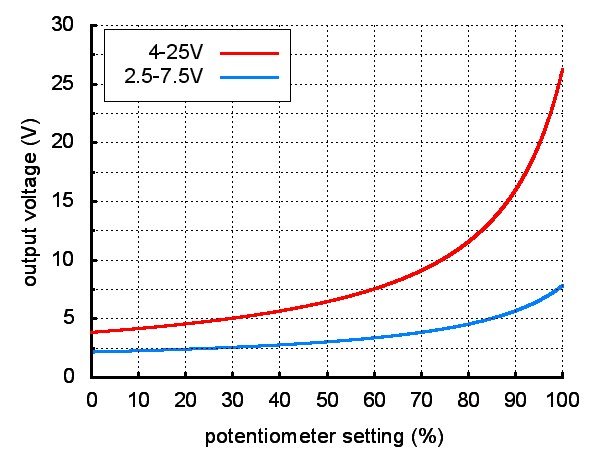 The graph showing the relation between the output five and potentiometer position for 4-25V and 2.5-7.5V converters.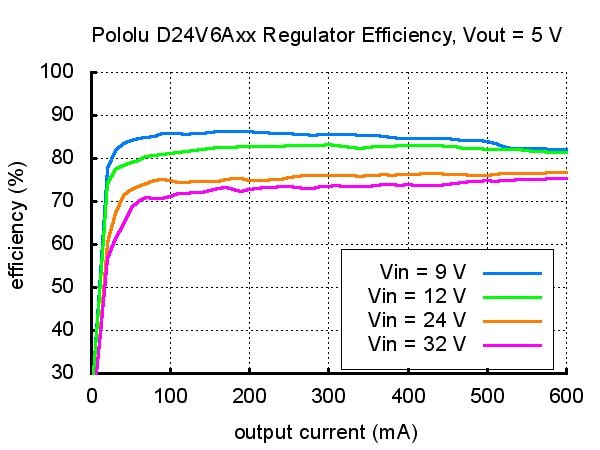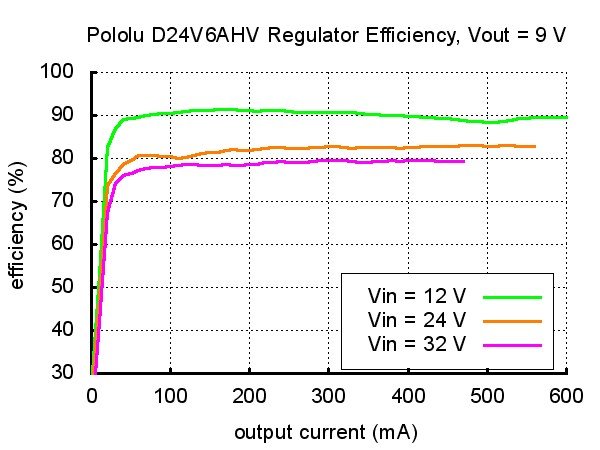 Dangerous voltage pulses
When connecting the power supply to the module, dangerous, short, high amplitude eclectic pulses (so-called pins) may appear, which may permanently damage the system. Polol's tests show that for voltages above 20V, the pins may have an amplitude exceeding 42V. In order to protect against this undesirable phenomenon it is recommended to solder a capacitor of at least 33 uF as close as possible to the pins feeding the converter.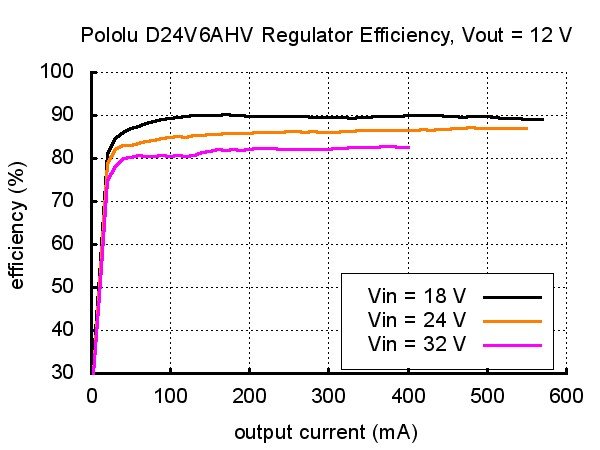 Polol specification D24V6AHV - 4V-25V 0.6A step-down converter
Input voltage: 4.5 V to 42 V
Output voltage adjustable: 4 V to 25 V
Maximum output current: 600 mA
500 kHz switching frequency
Built-in protection (breaker) to protect against excessive current consumption and excessive temperature
Dimensions: 15.3 x 10.2 x 4 mm
Weight: 1g (without connectors)