‌
Product description: Tin Cynel LC99 100 g / 0.7 mm - lead free
Lead- free solder with flux 1.1.3 . 100 g of product with a diameter of 0.7 mm is wound on a spool. The composition of the alloy is Sn99Cu0.7Ag0.3. It was produced in the first smelting of tin, copper and silver in a continuous casting process without access to air, then extruded, which ensures the elimination of oxides . The material is intended for manual and automatic soft soldering . It will be perfect for professional work with electronics. The melting point of tin is between 217°C and 227°C . During soldering, harmful substances are emitted and high temperatures occur, so precautions should be taken.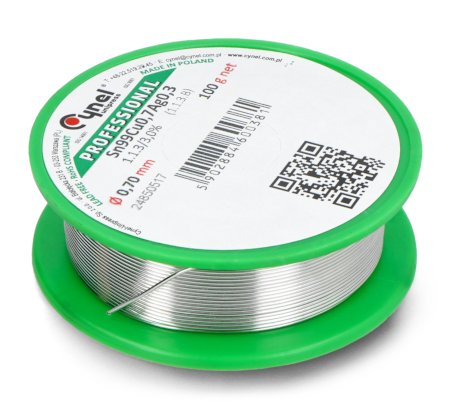 Lead-free solder with flux 1.1.3.
Tin technical specification
Manufacturer: Cynel
Type: Sn99Cu0.7Ag0.3
Flux type: 1.1.3
Melting point: 217°C to 227°C
Application: electronic industry
Diameter: 0.7mm
Weight: 100g