Description
Touch screen graphic LCD TFT display with a diagonal of 2.4" and a resolution of 320 x 240 px. It works with a voltage of 3.3 V and 5V, communicates through the SPI bus. In addition, there is a slot for microSD memory cards on the board.
Screen based on a driver ILI934, has a built-in RAM memory, due to this fact the microcontroller will not have to control the display. The device can communicate in two modes: 8-bit and using the SPI bus. For 8 bit mode you must connect the eight digital data lines and four control lines. SPI requires only five lines, but is slower than 8-bit communication. In addition, to support the touch screen it is required to connect four additional pins.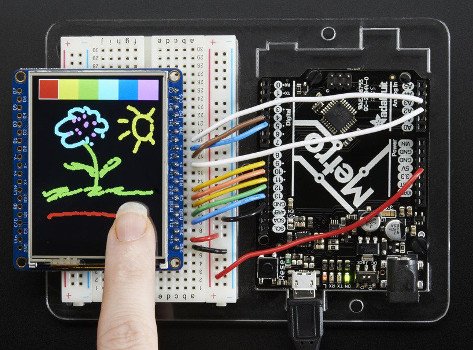 The outputs are holes for the supplied goldpin connectors - 2.54 mm raster (for self soldering). They allow the connection of the display via wire or plug attached to the contact plate.
Thanks to the integrated voltage converter, the system works with logic 3.3 V and 5 V. Mounted connector enables the delivery of graphic files on the microSD card in FAT16/FAT32.
Inputs
The device can operate in two modes: 8-bit and SPI, the SPI pins are shown in the table below. The details of the connection of 8-bit can be found in the tutorial. Example of connecting a touch screen is available in the user's guide.
Pin
Description
VIN
Screen backlight: 3.3 V to 5 V.
GND
The ground of the system.
MISO
Input data line of the SPI bus.
SCK
Clock line of the SPI bus.
MOSI
Output data line of the SPI bus.
CS
Select the device SPI bus - chip select for the display.
D/C
Pin code selection transmit: data/command.
RST
The system reset.
Lite
Pin for backlight control using the PWM signal.

IM3 - IM0

Contacts extended connection can be left unconnected.

CCS

Select the device SPI bus - chip select for a memory card reader.

CD

Pin goes to low when the memory card is inserted in the reader.

By default not connected to anything, you must use a pull-up resistor.
Specification
Supply voltage: from 3.3 V to 5.0 V
The operating voltage of the outputs: from 3.3 V to 5.0 V
Touch screen
Driver: ILI9341
Screen size: 2.4 inch
Resolution: 320 x 240 px
LED backlight with the ability to control brightness using the PWM signal
Communication: SPI or 8-bit
Built-in slot for microSD memory cards
Screen size: 42 x 58 mm
Board sizes: 52 x 61 mm
Weight: approx. 30 g