Product description: Controller for addressed Bluetooth RGB LED strips and strips SP105E Magic Controller
TheSP105E Magic Controller is designed to operate and controlLED strip addressed lighting.Communication takes place viaBluetooth fromthe applications available inGoogle Play andApp Store. It supports almost every programmable LED available on the market, on one or two-wire bus (especially WS2801, WS2811). The controller allows you to adjust the brightness with 200types ofdynamic programsuploadedor choose one color. It also allowsto control up to 2048 LEDs. It operates at a distance of up to20 m. Power supply voltage ranges from5 Vto24 V.
Included
SP105E Magic Controller
Mini screwdriver
Cable for LED strips
Operating instructions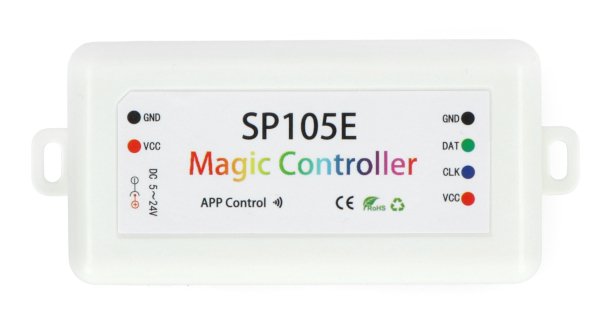 SP105E SP105E Magic Controller for addressed SP105E Bluetooth RGB bands and LED strips.
Bluetooth RGB driver specification for LED strips
Colour: white
Power supply voltage: DC from 5 V to 24 V
Current intensity: from 28 mA to 40 mA
Operating temperature: -20°C to 60°C
Remote control distance: up to 20 m
Product dimensions: 85 x 45 x 22 mm
Weight: 40 g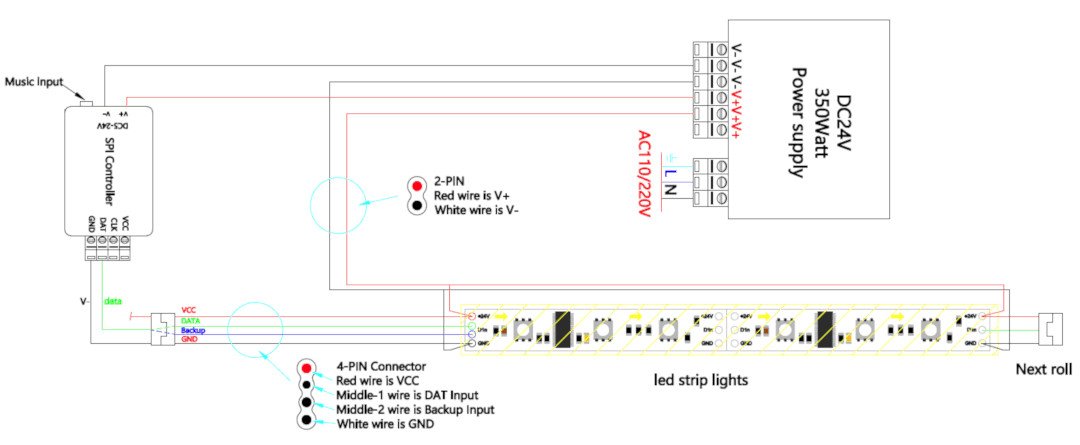 WS2813 WS2815 WS2818 LED lights wiring diagram.
SP105E RGB Bluetooth SP105E Magic Controller for addressed strips and LED strips
The SP105E Magic Controller is designed to control RGB LED lighting. Communication between the controller and the lighting is carried out wirelessly by means of an integrated Bluetooth module with an operating range of up to approx. 20 m indoors. The control is carried out from the smartphone level by means of a mobile application. The RGB controller allows you to adjust the intensity and color of light with 200 types of dynamic programs. With such a driver, the user can simultaneously control 2048 LEDs. The driver's power supply voltage range is from 5 V to 24 V and the current consumption is from 28 mA to 40 mA. Thanks to this, SP105E controller can be powered from both Arduino board and standard switch mode power supply with 12 V output voltage.
LED RGB controller - easy operation with a mobile application
Using the SP105E Magic Controller, we can perform the LED addressing process in just minutes - even without Arduino programming. Simply connect the power and communication cables and then pair the controller with your phone via Bluetooth. Thanks to its wide operating temperature range, the controller is suitable for both indoor and outdoor use. Through the mobile application, we can set almost any color of the controlled lighting.