Product description: Pico Scroll Pack - LED matrix 17 x 7
An extension dedicated to theRaspberry Pi Pico. The matrix in a17 x 7rectangularlayouthas a total of 119 individually controlledwhite LEDs. Additionally, the module is equipped with 4 buttons. The brightness of each LED can be adjusted using a PWM signal. The Pico Scroll Pack can be used to display graphs, and custom light projects such as glittering snowflake animations orcellphoneschematics. The board measures65 x 25 x 10 mm.
Raspberry Pi Pico
Raspberry Pi Pico is a unique item among Raspberry Pi products. It is equipped with a proprietary Raspberry PiRP2040chip. Pico can be programmed via microUSB port inC/C++ or MicroPython.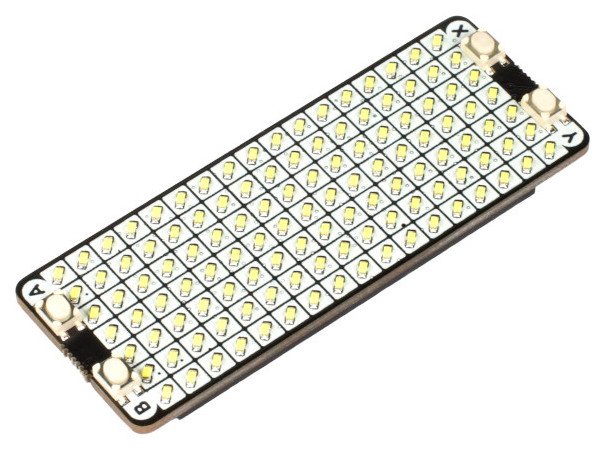 Pico Scroll Pack - 17 x 7 LED matrix.Raspberry Pi Picoto be purchased separately.
Communication
The Pico Scroll Pack communicates with the IS31FL3731 LED driver chip over the I2C bus, via the SDA and SCL pins (6 and 7)
Four switches are connected as SW_A (pin 16), SW_B (pin 17), SW_X (pin 19) SW_Y (pin 20)
Pico Scroll Pack specification
Matrix driver: IS31FL3731
Communication via protocol: I2C address: 0x74
Four built-in buttons
Programmable in C/C++ and MicroPython
Dimensions: 65 x 25 x 10 mm