Product description: STM32 NUCLEO-C031C6 - STM32C031C6 - ARM CORTEX-M0+
The STM32 Nucleo-C031C6 module with the 32-bit STM32C031C6 microcontroller equipped with the Arm Cortex-M0+ core clocked at up to 48 MHz, 32 kB Flash memory and 12 kB SRAM. The circuits placed on the board are in 64-pin housings. Because the board belongs to the Nucleo-64 family, it is compatible with the mbed platform , has connectors for connecting shields adapted to Arduino Uno and has ST morpho leads that give access to all GPIO pins of the microcontroller. The module works with a wide range of integrated development environments (IDEs), including IAR Embedded Workbench, MDK-ARM and STM32CubeIDE. The device is equipped with the ST-LINK debugger / programmer. The use of connectors compatible with Arduino Uno v3 allows direct connection of dedicated Shield extensions .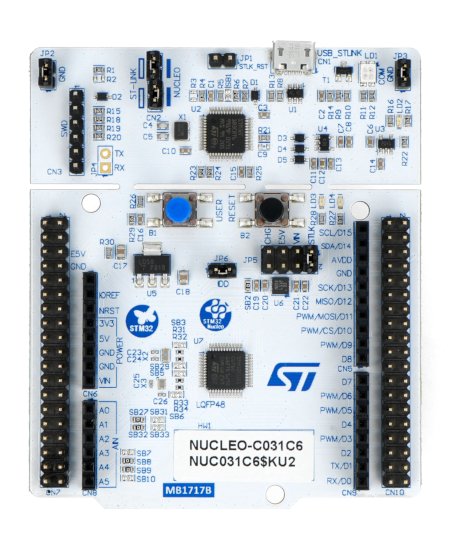 STM32 Nucleo module from STMicroelectronics.
Specification of the STM32 NUCLEO-C031C6 module
Microcontroller: STM32C031C6T6

ARM Cortex-M0+
Clock frequency: 48MHz
Flash memory: 32KB
SRAM memory: 12KB
DMA: 3 channels
Communication interfaces: 45x GPIO, 5x Wake-up pin, 1x I2C, 1x SPI (I2S), 1x USART
Timers: 2x 16-bit (4 channels), 3x 16-bit (1 channel), 1x RTC, 1x SysTick, 2x Watchdog
Analog Interfaces: 1x 12-bit ADC, 19 external channels, 2 internal channels, internal reference source

Two types of connectors:

Connectors for shields compatible with Arduino Uno Rev3
Standard STMicroelectronics Morpho pins, allowing access to all pins of the microcontroller

The module is compatible with the mbed system
Built-in ST-LINK debugger/programmer
Can be powered via USB or an external 5V or 3.3V power source
Built-in 4 LEDs:

1x indicating USB power
1x indicating power supply from SMPS
1x signaling USB communication
1x at the user's disposal

Two buttons:

1x RESET
1x USER at the user's disposal