Attention!
The product has been discontinued. Check other products in category.
Description: Li-Po / Li-Fe / Li-Ion / Ni-CD / Ni-MH charger with balancer - Redox Beta
Redox Beta is a simple and universal charger, which works with most of the cells used in robotics and modelling. The large, easy to read display with intuitive user interface allows you to select the appropriate parameters and constantly monitor the battery status during charging. A set of adapters ensures trouble-free charging of Li-Pol, Li-Ion, Li-Fe cells and NiCd, NiMH and Pb packs. Built-in balancer ensures proper and even charge of all cells in the packs.
The set does not include the power supply, you can choose it by checking the appropriate box above the product description.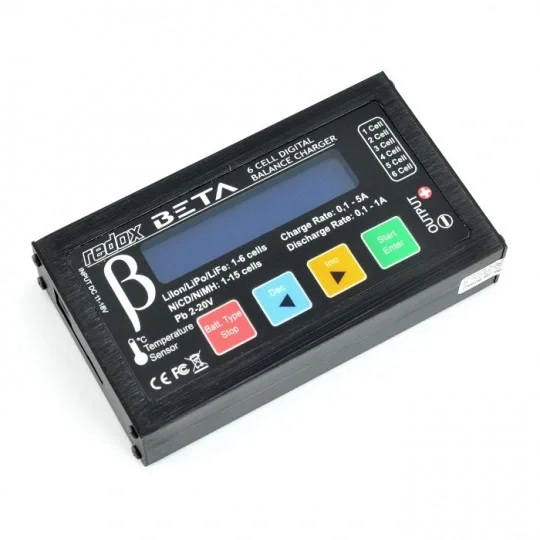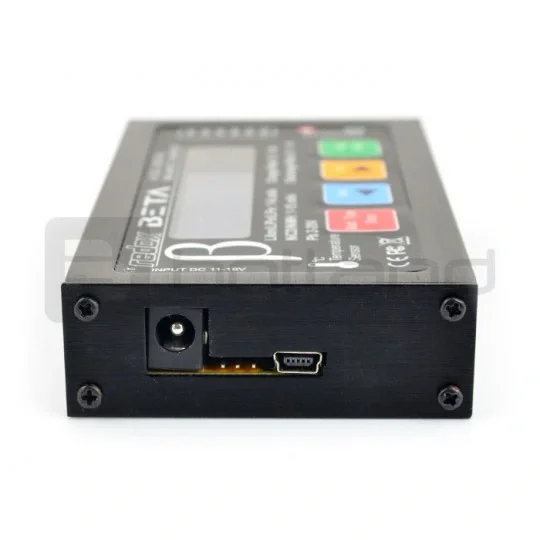 Technical specification
Operating voltage of the charger itself: DC from 11 V to 18 V
Output power

max. charging power 50 W
max. discharge power 5 W

Charging current: 0.1 A - 5.0 A
Discharge current: 0.1 A - 1.0 A
Number of NiCD/NiMH cells supported: 1-15 cells
Number of supported Li-Po/Fe/Ion cells: 1-6 cells
Supported Pb batteries: 2 - 20 V
Built-in charger memory: max. 5 packs
Pack cycling function
4 programming buttons
Weight (without leads): 195 g
Dimensions: 113 x 65 x 23 mm
Built-in sockets:

sockets for balancer adapter + 2-6S adapter
sockets for DEAN plug for charging (suitable adapters are included)
Jack socket (12V DC power supply)
Slot for optional temperature sensor
USB socket (service option, derived UART interface - do not connect to a computer)
Set contents:
Redox Beta charger DEANS adapter -> crocodiles
DEANS adapter -> servo socket
DEANS adapter -> dummy plug
DEANS adapter -> TAMIYA
Crocodile -> Jack adapter (for 12V battery charger power)
Plate with 2s-6s "redox" type service sockets (XH) for cell balancer
User manual in Polish