Product description: Velleman VMA320 - temperature sensor - thermistor 10 kΩ - 2 pcs.
Analog temperature sensor equipped with an NTC MF52 10 kΩ thermistor. Works in the range from -55°C to 125°C. It is powered by 5 V. The set includes 2 modules.
Pinouts and control system
The module is controlled by an analog signal. It has 3 terminals to be connected to the control module.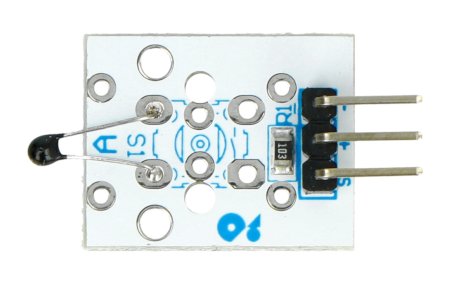 | PIN | Description |
| --- | --- |
| VCC | VCC - supply voltage 5V. |
| GND | GND - system ground. |
| S | Analog signal. |
Technical specification Velleman VMA320
Supply voltage: 5 V
Type: analog
Thermistor: NTC MF52

10 kΩ

Measuring range: from -55 °C to 125 °C
Accuracy: +/- 0.5 °C
Dimensions: 20 x 15 x 5 mm
Included: 3-pin cable