Product description: Tic T825 - USB 45V/2,5A stepper motor driver - assembled - Pololu 3130
The chip allows you to control a step per motor using a device that allows you to generate logic states, such as Arduino, STM32Discovoery, Raspberry Pi or any microcontroller. The driver can be configured, tested, and monitored via USB, and runs on Windows, Linux, and macOS.
Features of the controller
The Pololu module features very simple operation. In order to rotate the motor by one step it is necessary to provide a high state (logical one) on the STEP pin, the next sequence of zero and one will move the motor by the next step and so on. The selection of the direction is done by giving the appropriate state to the DIR pin (e.g. low state - clockwise rotation, high state - anticlockwise rotation). The controller also has the ability to select the resolution of motor operation.
Connecting the driver
To control a bipolar stepper motor connect the system according to the diagram below. If the nominal motor voltage is lower than the required driver supply (8.5V), set the current limit manually using the potentiometer.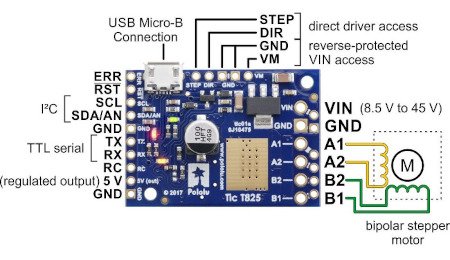 The figure shows the minimum connection of the controller
A comprehensive user guide is available from the manufacturer.
Power supply of the motor driver
A5V regulator is required to supply power (no external logic supply is required) tothe 5Vpin.The motor supply voltage from 8.5 V to 45 V is applied tothe VINpin. The circuit can be used to control motors with a nominal voltage lower than the required 8.5 V. To do this, limit the maximum current draw using a potentiometer, so as not to exceed the allowable motor current. For example, for a motor with a resistance of 5 Ω per coil and a current consumption of 1 A, the nominal supply voltage is 5 V. When supplied with 12 V, the current should be limited so that it does not exceed 1 A.
Caution!
Connecting and disconnecting the motor while the controller is on can damage the system.
LEDs and heat dissipation
There are three LEDs on the board: green, red, yellow. Green indicates communication via USB. Red one is connected to the ERR pin, if it lights up, it means there is an error. Yellow indicates the stepper motor status and gives some information about errors, if any. Detailed description can be found in documentation on manufacturer website.
The board was designed to dissipate heat at a current consumption of approx. 1,5 A per coil. If the current will be much higher you should use external heat sink, for which you can use thermally conductive glue.
Technical specifications
Motor supply voltage: 8.5 V - 45 V

Current: max. 1.5 A per coil (with cooling up to 2.5 A)
Supply voltage for logic part: 5 V regulator - no external power supply required
Simple control interface
Operation in 6 different modes: full step, 1/2, 1/4, 1/8, 1/16 and 1/32 step
Adjustable current consumption by the motor using a potentiometer
Protection against overheating of the system
It has 6 control interfaces: USB, serial TTL, I2C, RC pulse servo, analog, square encoder
Maximum step speed:

50000 steps per second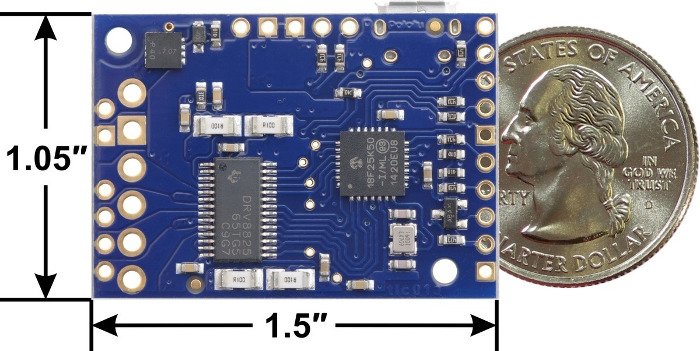 Kit includes: