Product description: light intensity sensor BH1750
Digitallight intensity sensoroperating in the range of1 - 65535 Lux (Lux)with resolution of 1 lx or 4 lx depending on the selected mode of operation. It communicates through I2C  interface (TWI), that is, two lines: data - SDA and clock SCL. The module can be used to measure the light intensity both indoors and in the open space. The kit includes a goldpin connector forself-soldering.
Connecting the light sensor
The module has five pins: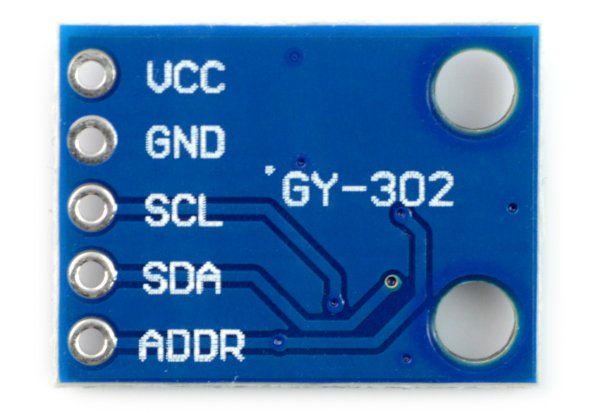 The bottom side of the printed circuit board of the sensor BH1750.
VCC - supply voltage: 3 V to 5 V.
GND - ground of the system.
SCL - the clock line of the I2C bus.
SDA - data line of the I2C bus.
ADD - address selection of the I2C bus, the indication of the low status sets the address to: 0100011, high: 1011100. The pin is by default in the low status.
The product is compatible with Arduino
The sensor can be connected directly to the pins of the microcontroller, e.g.Arduinoor minicomputer Raspberry Pi.
The user manual is available onour website.
Existing library together with the sample code for Arduino can be found onGitHub.
In the case of using the Arduino Mega 2560 connected should be pins:SCL with the 21 pinandthe SDA with the 20 pin.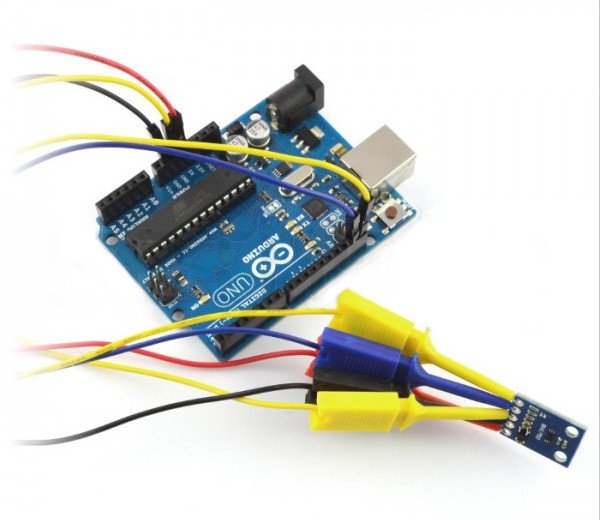 On the picture is the BH1750 light intensity sensor connected toArduino Unousing the male connectors with hooks.
Specification
Supply voltage: 3 V to 5 V
Average current consumption: 120 uA
Communication interface: I2C
Built-in resistors 4.7 kΩ pulling up the lines SCL and SDA of the I2C bus
Built-in voltage regulator
Range: 1 to 65535 lx
Module dimensions: 21 x 16 x 3.3 mm
Details inthe documentation.