Description: Grove - BMA456 pedometer
A module based on theBosch BMA456sensor, which can act as a pedometer.The BMA456 is a small3-axis acceleration sensor. The board is equipped with aGroveconnector and a compatible cable is included. It communicates through theI2Cinterface. It is poweredfrom 3.3 V to 5 V.
Module outputs
The BMA456 sensor module is equipped with a Grove connector that allows for easy connection with a Base Shield cap. The sensor communicates via the I2C interface.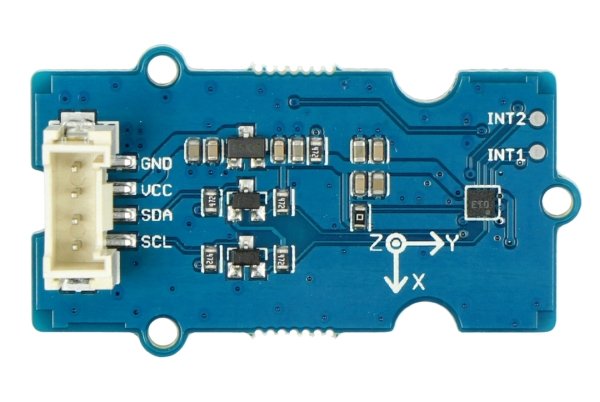 | Pin | Description |
| --- | --- |
| GND | The weight of the system. |
| VCC | Supply voltage from 3.3 V to 5 V. |
| SDA | I2C interface data pin. |
| SCL | I2C interface clock pin. |
Crocometer specifications
Supply voltage: 3.3 V to 5 V
Communication: I2C
Measurement range: ± 2 g, ±

4 g, ± 8 g, ± 16 g

Affection:

16384 for ± 2

g

8192 for ± 4 g

4096 for ± 8 g

2048 for ± 16 g

I2C address: 0x19 (default), 0x18 (optional)

Dimensions: 40 x 20 x 7 mm

Weight: 9,2 g
The set includes
Grove pedometer module

Grove cable