Product description: DC/AC step-up converter AZO Digital 24 V DC / 230 V AC IPS-4000 4000 W - automotive
The in verter allows you to use devices that require AC 230 V using batteries or car installations with DC 24 V. It is ideal for powering laptops, USB devices, printers, cash registers, lighting, small household appliances, chargers and other equipment. Produces alternating voltage of modified sinusoidal waveform. It provides 4000 VA of maximum power and 2000 VA of continuous power. The inverter has active cooling and protection against overheating and overload. It comes with 8 spare fuses and a set of power cables with eyelet connector.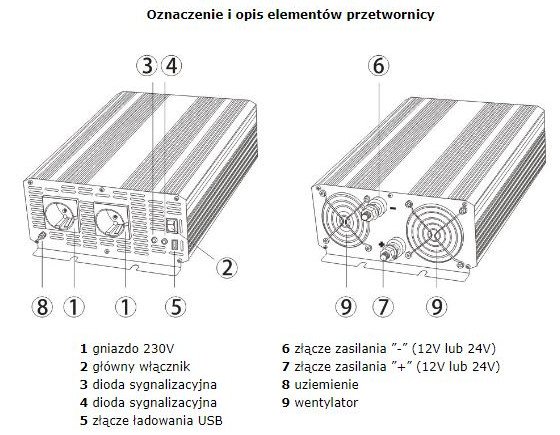 Technical specifications of the converter
Product name: IPS-4000 24V
Input voltage: from 22 to 30 V DC
Output voltage 230 V AC
Maximum power: 4000 VA
Continuous power: 2000 VA
Output voltage waveform: Modified sine wave
Soft start for induction motors: NO
Overload protection: YES
Short circuit protection: YES
Thermal protection: 80 °C
Supply overvoltage protection: 30 V DC
Discharge battery warning: YES
Operating temperature: 0 °C to +40 °C
Efficiency: >85
Cooling: Active
Power connector:

M8 screw connector
Cables with terminals

230 V output socket: 2 x E (with pin)
USB socket: YES
Housing: Aluminum
Degree of protection: IP21
Dimensions: 345 x 230 x 108 mm
Weight: 4900 g
Details in product card.
Set contains
IPS-4000

converter
Power wires: 1 set with eyelet connector
8 spare fuses
User manual in Polish