Product description: S13V30F5 - step-up / step-down converter - 5 V 3 A - Pololu 4082
A small step-up/ step-downvoltage convertermodule with5 Voutput voltage and3 Acurrent capacity. Its input voltage range isfrom 2.8 V to 22 V. Its ability to convert both higher and lower input voltages makes it useful in applications where the supply voltage can vary widely, as with batteries. The board's efficiency rangesfrom 85% to 95%and can deliver current from 2 A to 4 A depending on the input voltage. It features reverse polarity protection up to 20 V, undervoltage lockout, output overvoltage protection, and overcurrent protection. An over-temperature shutdown function also helps prevent overheating damage, and a soft-start function limits the inrush current and gradually increases the output voltage during startup.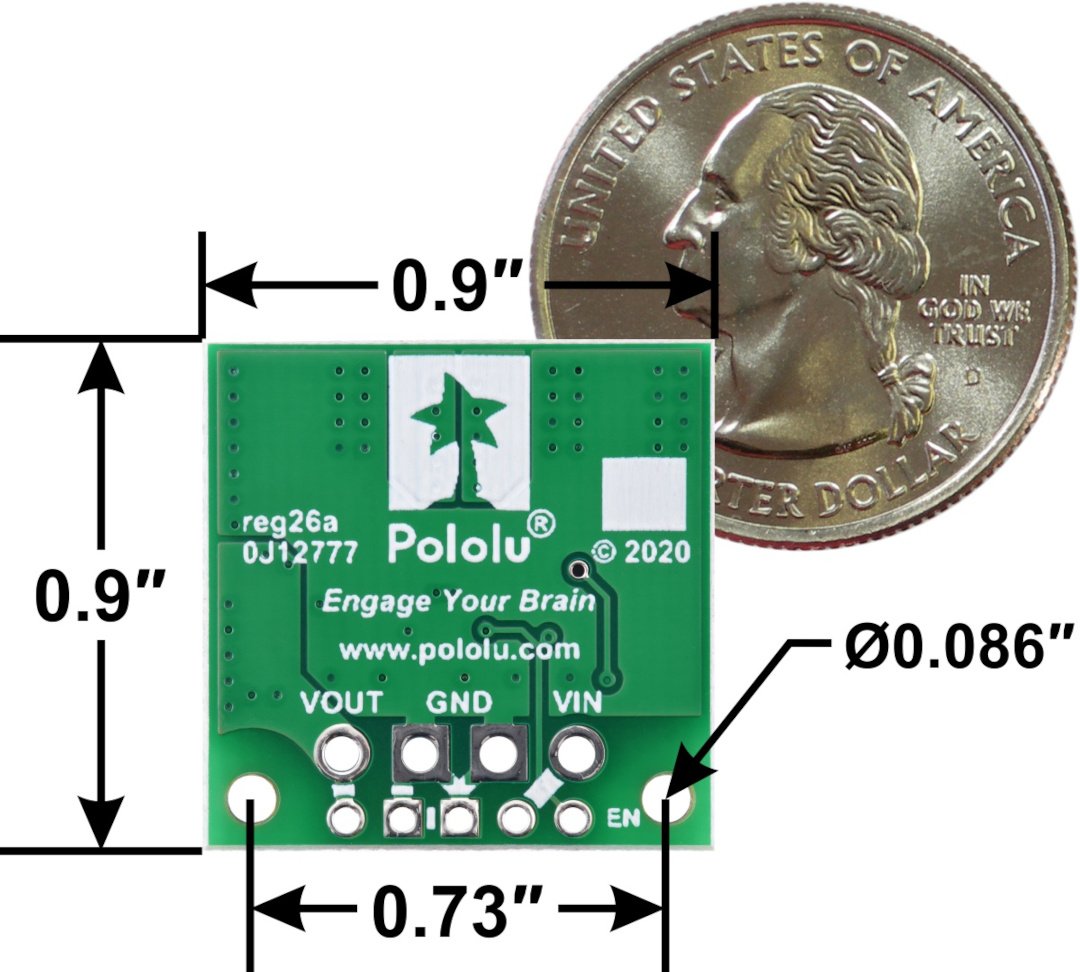 5 V / 3 A step-up / step-down converter.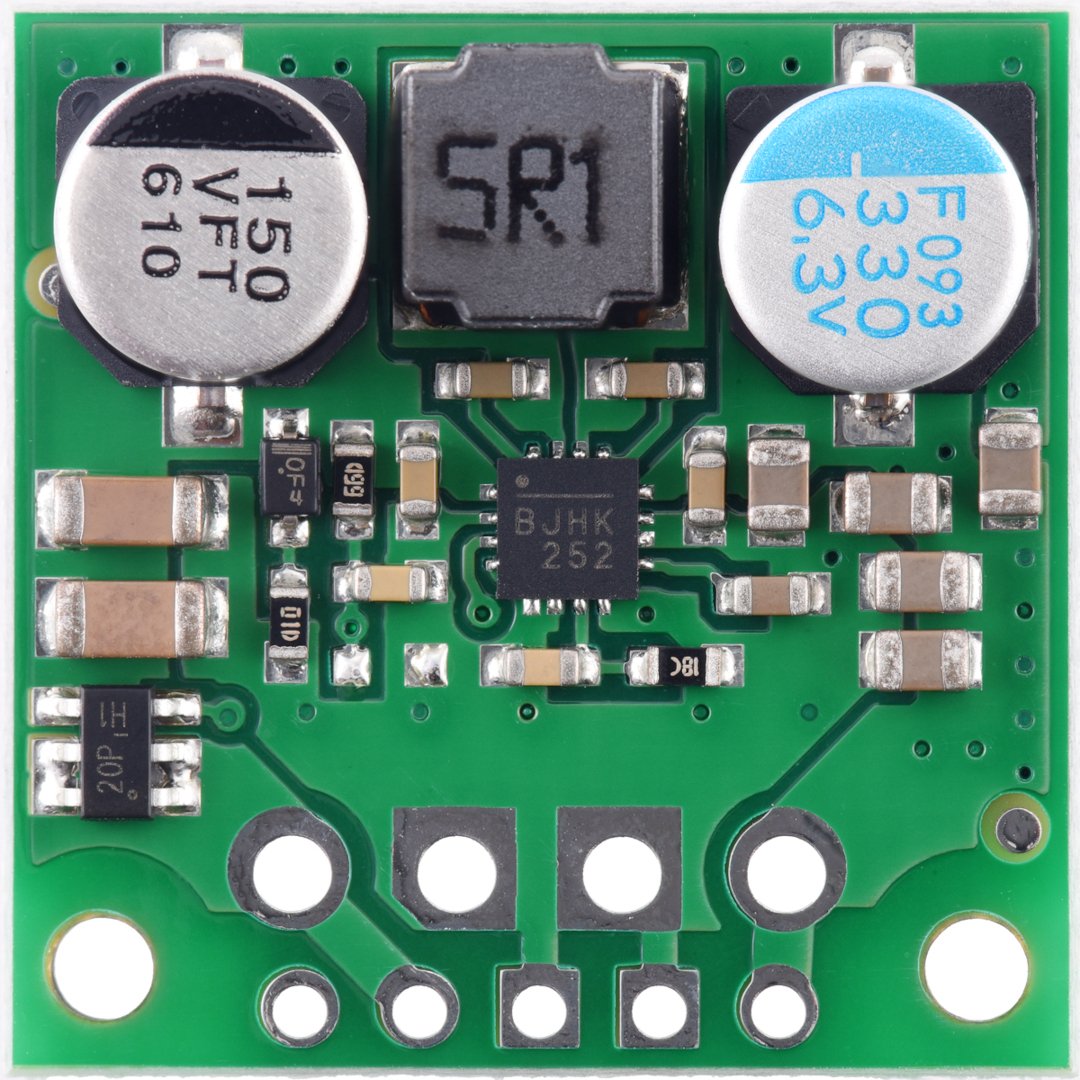 5 V / 3 A converter.
Main features of the step-up / step-down converter
Input voltage: from 2.8 V to 22 V
Output voltage: 5 V with 3% accuracy
Typical maximum output current: from 2 A to 4 A, depending on the input voltage
Typical efficiency: 85% to 95%, depending on input voltage and load
Typical idle current: 10 mA to 20 mA no load, can be reduced from 2 µA to 10 µA per volt per VIN by turning the board off
Input undervoltage lockout and input surge protection
Soft start function limits inrush current and gradually increases output voltage
Integrated reverse voltage protection up to 20 V, overcurrent protection and overheat cut-off
Fixed switching frequency: ~500 kHz
Compact size: 22.9 x 22.9 x 9.7 mm
Two mounting holes: 2.2 mm for M2 screws
Board terminals
The board has four connectors:enable (EN), input voltage (IN), ground (GND) andoutput voltage (VOUT). The input voltage, VIN, supplies the inverter with a voltage from 2.8V to 22V. The output voltage is located on the VOUT pin. The voltage regulator can go into low power mode by changing the state of the EN pin to low. There are two 2-pinscrew connectorsand one 4-pingoldpinconnector that you can solder yourself. With the use of screw connector you can easily and reliably connect the wires to the module, while the goldpin strip allows you to plug the module into e.g. a contact board.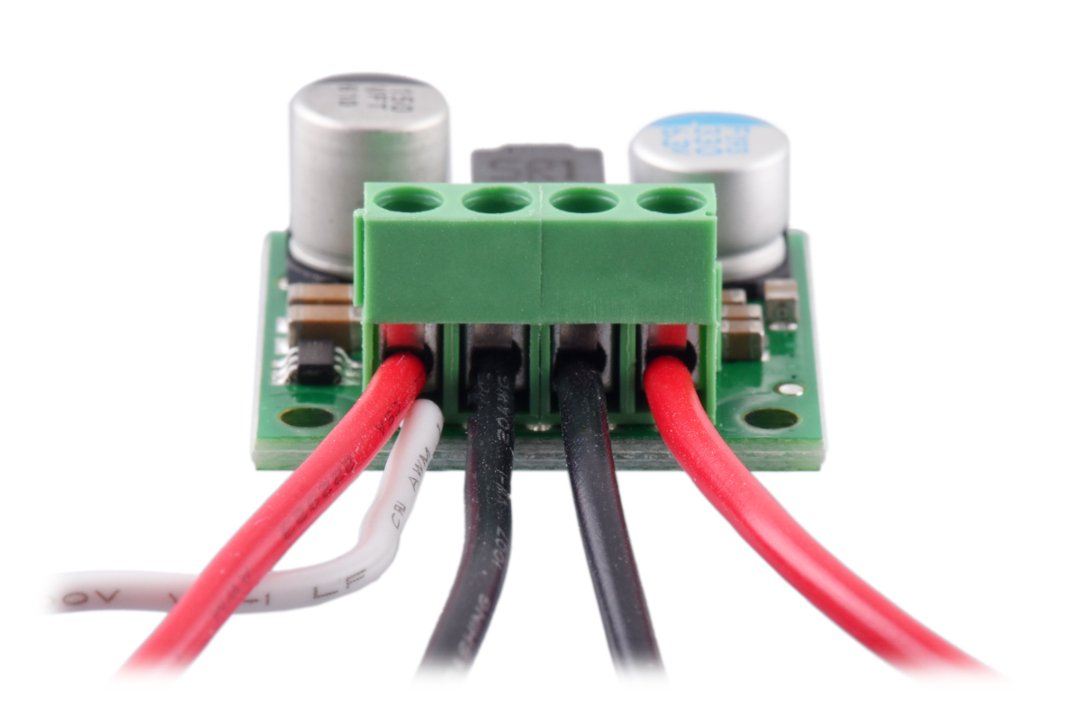 The screw connector makes it possible to connect the wires securely.
Typical inverter efficiency
The efficiency of a voltage regulator, defined as (power output) / (power input), is an important measure of its performance, especially when it comes to battery life or heat generated.
Maximum continuous output current
The maximum achievable output current of a regulator varies with the input voltage, but also depends on other factors including ambient temperature, airflow and heat absorption. The chart shows the maximum output currents that the regulator can deliver continuously at room temperature, without airflow or additional heat dissipation.
Rest current of the system
Rest current, is the current that the inverter uses to power itself, and the graph shows this as a function of the input voltage. The EN input of the module can be set low to put the board into a low power consumption state, where it typically draws between 2 µA and 10 µA per volt per VIN pin.
Pololu step-up / step-down converter module specifications
Input voltage: 2.8 V to 22 V
Output voltage: 5 V
Continuous output current: typical 3 A
Reverse voltage protection: yes
Maximum resting current: 100 mA
Dimensions: 22.9 x 22.9 x 9.7 mm
Weight: 3.5 g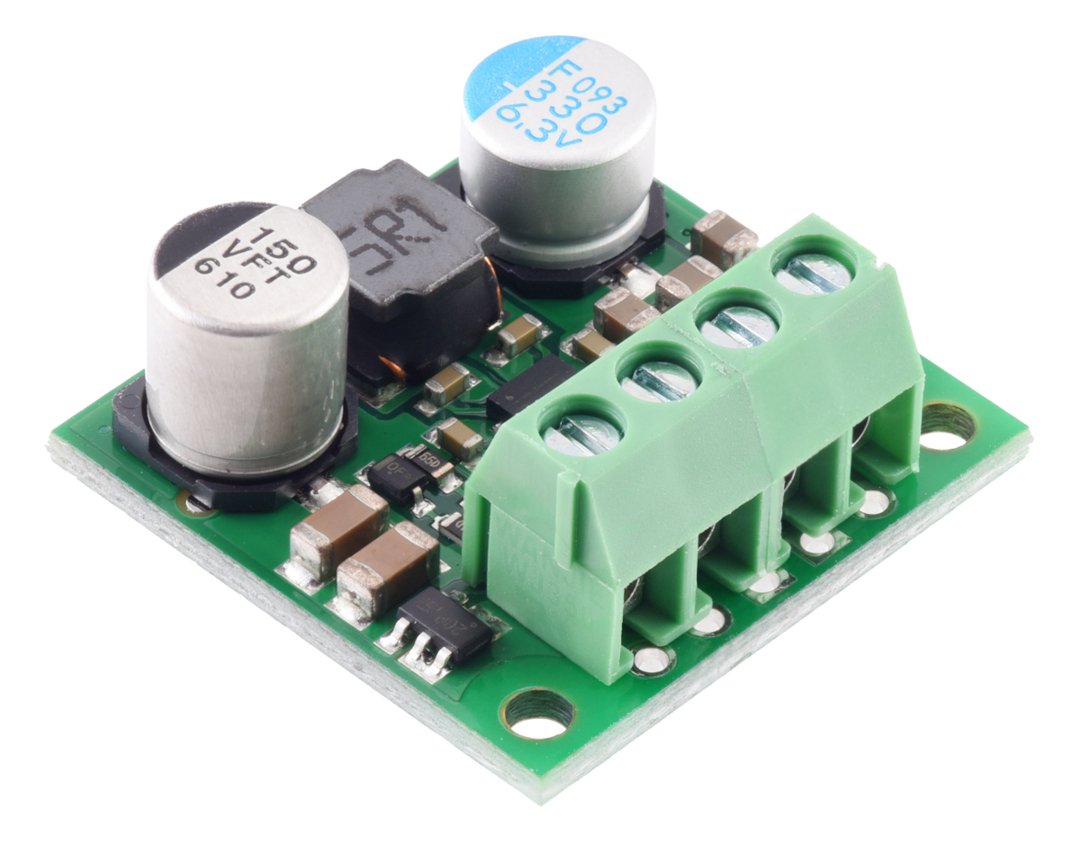 Pololu inverter.