Description
Module with 4.2" e-paper display with a resolution of 400 x 300 px. Communicates via the SPI interface, e.g. with Arduino or Raspberry Pi. Thanks to the e-paper technology the device does not tire the eyes like the traditional screens do. It displays three colors: black, yellow and white as a background. This kind of display can be used for reading e-books and e-journals.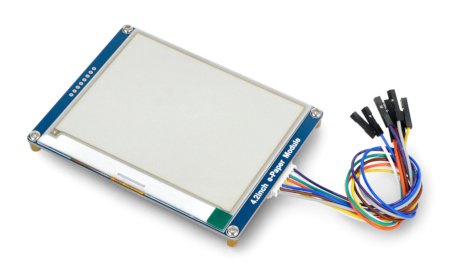 The module has 8-pin connector raster 2.54 mm.
Includes connecting cable.
Inputs
The device has an 8-pin connector.
Pin
Description
VCC
Supply voltage: 3.3 V
GND
The grounf of the system.
DIN
Pin MOSI of SPI interface.
CLK
Clock pin of SPI.
CS
Chip select activated at low state.
DC

Selection data / command.

High state - data

Low state - command

RST
External reset activated at low state.
BUSY
Output status "busy", activated at low state.
Specification
The module is compatible with Arduino and Raspberry
Supply voltage: from 3.3 V to 5 V
Power (screen refresh): 26.4 MW
Interface: SPI
The gray level: 2
Refresh time: 15 sec
Displayable colors: black, white and yellow
External dimensions: 103 x 78.5 mm
Display size: 84,8 x 63.6 mm
Pixel: 0.212 x 0.212 mm
Resolution: 400 x 300 px
Connecting cable included
Viewing angle: 170°