Pololu 150 motor specification: 1
| | |
| --- | --- |
| Supply voltage: | 3 May - 9 May |
| No-load current (6V): | 40 mA |
| Current with the shaft stopped (6 V): | 360 mA |
| No load speed (6V): | 85 rpm |
| Torque (6V): | 1.2 kg * cm (0.117 Nm) |
| Gear ratio: | 150: 1 |
| Shaft Diameter: | 3 mm |
| Body dimensions: | 24 x 10 x 12 mm |
| Mass: | 10 g |
| Double-sided shaft: | NO |
Product Description: Pololu 150 Motor: 1
Small, light and powerful Pololu engines are used by robot constructors as drive units. Devices can be supplied with voltages up to 9 V, and useful power over 3 V. The optimal voltage with the best power to endurance ratio is 6 V.
Engine dimensions
The motor body is a cuboid with dimensions of 24 x 10 x 12 mm. The gearbox is 9.27 mm long. There is a 3mm D-shaped shaft at the exit. The total weight is approximately 10g.
Accessories
We offer a number of accessories that work with Pololu micro motors:

Video from the final run of thewinningconstruction called Impact at the T-BOT 2013 robot tournament. The robot we made has Pololu HP micro motors with10: 1gear.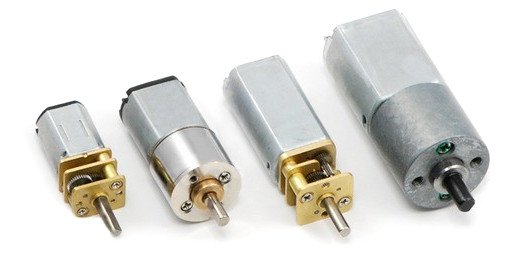 The store also offers many otherengines.
Engine 150: 1 - Pololu 1097
Due to its compact size, low weight and high power, the presented engine is characterized by a wide range of applications, incl. in robotics and automation. The 150: 1 motor produced by Pololu, due to its durability, is ideally suited as a drive unit.
This motor can be quickly installed even in hard-to-reach places. The manufacturer has equipped the drive unit with specially designed handles.
Engine 150: 1 - Pololu 1097 - durable and reliable drive unit
To control the described engine, you can use, among others Arduino microcontrollers. The Pololu offer includes engines of various power and sizes.
Due to the wide assortment, the selection of a unit tailored to specific project requirements is not a problem. Pololu engines will be perfect for, among others in remotely operated vehicles.