Product description: Servo pHAT - 16 channel I2C PWM controller for Raspberry Pi - SparkFun DEV-15316
TheServo pHAToverlay from SparkFun allows you tocontrolup to16 servosvia theI2Cinterface. The chip generates aPWMsignal of up to1.6 kHzwith12-bit precision. Using I2C communication does not occupy GPIO pins and allows to use them for other project purposes. The module has aQwiicconnector, which greatly simplifies connection, and a USB Type C connector, through whichpowercan be supplied to both theoverlayand the Raspberry Pi. The overlay increases the possibilities of using the Raspberry Pi to control complex,servo-basedstructures.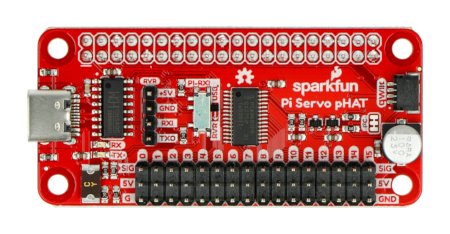 An overlay for Raspberry Pi in the form of a 16-channel PWM controller.
Technical specifications
Communication interface: I2C
Number of PWM channels: 16
Resolution: 12 bits
Maximum frequency: 1.6 kHz
Operating voltage: from 2.3 V to 5.5 V
Duty cycle: from 0% to 100% (adjustable)
I2C address: 0x40
Qwiic connector
40-pin GPIO connector for connection to Raspberry Pi