Description
The module is equipped with a sensor of spectrum, i.e. the spectrum of visible light and NIR (near infrared light) that allows you to measure and describe how various materials absorb and reflect light waves, the sensor detects waves below the visible range within the near infrared NIR. The sensor communicates using I2C and UART, using AT command. It has two connectors Qwiic, 1 mm pitch, and the connector for soldering the goldpin strap of 2.54 mm(sold separately).
It detects a wavelength in the visible range in the light of 610, 680, 730, 760, 810 and 860 nm, each with 20 nm of full width of half of maximum detection. The board has a built-in LED with the power of 5700K which is used to illuminate the objects. You can solder any LED,operating at a voltage of 3.3 V.
Pins
Module AS7262 has two communication interfaces: I2C and serial UART. The I2C interface is default. To use the serial interface, you must remove the tin located on jumper JP1 and put it on jumper JP2, located on the other side of the board. For serial communication with the computer, usea converter USB-to-Serial. On the board are two connectors Qwiic of 1 mm and output of 2x 6-pin for soldering the goldpin strap of 2.54 mm.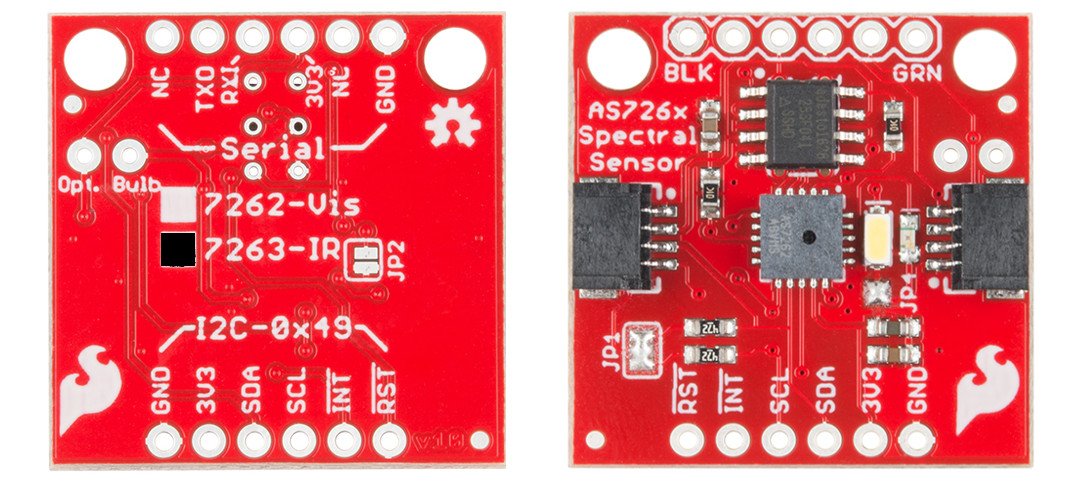 | Pin | Description |
| --- | --- |
| GND | The ground of the system. |
| 3V3 | Supply voltage is 3.3 V. |
| SDA | The data line of the I2C bus. |
| SCL | Clock line of the I2C bus. |
| INT | The external interrupts, the sensor sends a signal after a measurement (optional pin) |
| RST | Reset |
| NC | Normally Closed  |
| TX0 | UART interface - transmitter |
| RX1 | UART interface - receiver |
| 3V3 | Supply voltage of 3.3 V |
| NC | Normally Closed  |
| GND | The ground of the system |
Specification
Power supply voltage: 2.7 V to 3.6 V
6 visible channels:

610, 680, 730, 760, 810 and 860 nm

, each from 20 nm of FWHM

16-bit of ADC with digital access
Programmable driver of LED
Communication interface: I2C and UART
Connectors:

2x Qwiic pitch of 1 mm
2x 6-pin lead, pitch of 2.54 mm