Attention!
The product has been discontinued. Check other products in category.
Product description: Estimote Proximity Beacon - Beacon module set - 4 pcs.
A set of four modules supporting iBeacon location technology. Its purpose is to facilitate movement in confined spaces. The modules contain a temperature sensor, accelerometer, ambient light sensor and NFC chip. With low power requirements, the battery life can reach 3 years on a single battery. The maximum range is equal to 70 m.
iBeacon - Bluetooth based technology
IBeacon is a location-based technology developed by Apple based on Bluetooth 4.0. Its purpose is to facilitate movement in confined spaces. IBeacon transmitters are placed in a given place and send information about their location. A user with a smartphone is able to read these signals and determine very precisely the position in relation to the source (even up to several centimeters). This technology can be used in stores, airports, train stations, etc.
Examples of iBeacon applications:
Helping to select the shortest checkout queue
Displaying personalized promotions when approaching relevant departments
Helping to determine the route through a store based on a shopping list
At airports and train stations, find your way to the right gate or platform
Proximity Beacons
The set consists of 4 Proximity Beacon modules containing temperature, motion and ambient light sensors. They allow to mark different areas, for example in a store. Each module has a unique ID and an adhesive layer for easy installation. The devices are supported by Android and iOS smartphones. Proximity Beacons also work with Eddystone technology allowing to read the location through web pages.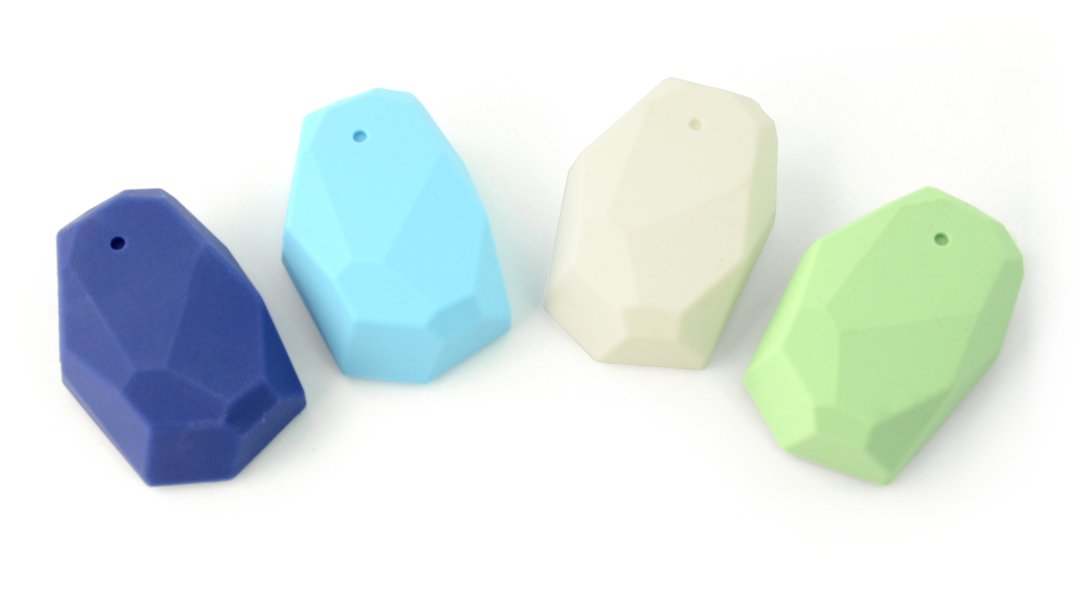 Operation and programming
Beacons work with all smartphones equipped with Bluetooth 4.0 technology. The manufacturer provides detailed instructions for using the devices in the device documentation.
The Proximity Beacon can be launched in Cloud using the activation link included in the package.
Technical specifications of Estimote Proximity Beacon
Operating time: 3 years on the included battery (max. 5 years)
Supported communication formats:

iBeacon
Eddystone
Estimote Telemetry

Multipacks: 1 package + 1 telemetry package
Range: 70 m
Configurable settings
Sensors:

motion
temperature
ambient light

Built-in NFC
Support for Android and iOS
4 pieces included
Module dimensions: 70 x 48 x 25 mm
Estimote Proximity Beacon - set of Beacon modules - 4 pieces.
The Estimote polish set is 4 pieces of practical Beacon modules that are designed to support iBeacon location determination technology. The devices are equipped with temperature sensors, light sensors, motion sensors, NFC and accelerometers.
The hardware can find applications, for example, making navigation easier for customers who are in a large store. Using the appropriate application on the phone, the customer could precisely determine his position and, for example, find the product he is looking for.
Beacons - saving money
Thanks to the use of low-voltage components that consume very little energy - each module is able to work for up to 3 years on a single set of batteries.
This type of technology is able to facilitate navigation in places such as train stations or airports - Beacons modules are able to determine the location with an accuracy of even a few centimeters.
By-pass voltage regulator 13.2V, 1.33Ω, 9W - Pololu 3770
We offer a shunt voltage regulator - it was created to ensure the safety of power supplies to which motor controllers are connected. These often generate voltage spikes dangerous to the system - the shunt voltage regulator is able to protect against such situations.
For the equipment to work properly, it must be connected in parallel with the power supply. The voltage of such a regulator should exceed the value of the supply voltage. Below you will find a simplified diagram of a voltage regulator, so that you can better understand the entire electronic system before purchasing.
Shunt voltage regulator
The described voltage regulator is a device built on a PCB. The circuit has a fixed voltage value set at 13.2 V and the shunt resistance is 1.33 Ω.
The device takes up very little space, thanks to its compact dimensions. The whole device occupies 28.5 mm x 20.3 mm x 7.6 mm and weighs 2.8 g.