Product description: WiFi weather station with display - Velleman WC224
Indoor and outdoorweatherstationwithcolourdisplay.The device communicates over a WiFi networkandthe collected data is sent to the Wunderground cloud, whichcan be read using the mobile device application. The station allows to measure temperature, humidity, pressure and wind direction and speed. The station is powered by the power supply, while the sensor is powered bysolar energyusing the panel.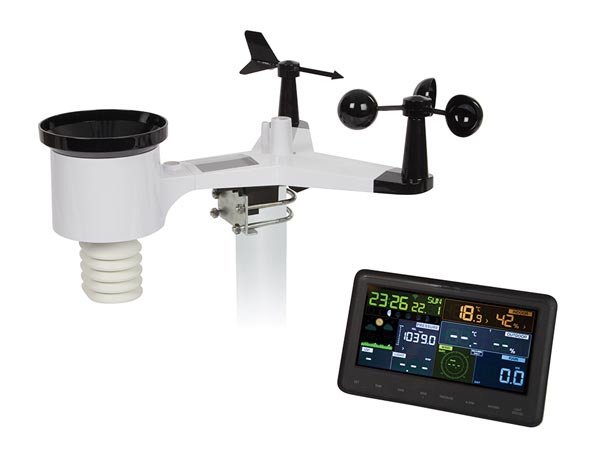 Weather station with display.
Main features of the weather station
Indoor and outdoor WiFi weather station with display
Display brightness adjustment
Outdoor measurements: temperature, humidity, rainfall, wind direction, wind speed, UV, solar radiation
Measurements inside: temperature, humidity, atmospheric pressure
Weather forecast with icons: sun, sun and clouds, clouds, rain, storm, snow
Weather trend indicators
Alerts: temperature, humidity, wind
Registration of minimum and maximum temperature and humidity
Temperature display: °C, °F
Interface language: EN
Time display: date, day of the week, time (12h / 24h)
Snooze alarm
DCF: radio-controlled clock that automatically updates the time
Application: Android, iOS
Data transfer to the weather server: Wundergound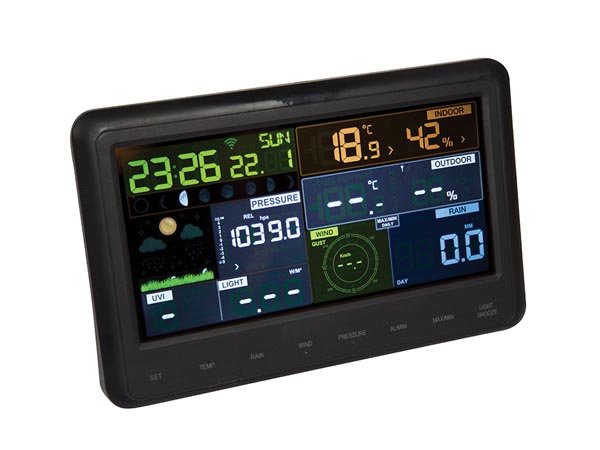 Colour display for the weather station.
Weather station specification
Internal temperature measurement range: -10°C to 60°C
Outdoor temperature measurement range: from -40°C to 60°C
Temperature measurement accuracy: ± 1°C
Measurement range of humidity inside: from 10% to 99%
Outdoor humidity measurement range: from 10% to 99%
Accuracy of humidity measurement: ± 5%
Wind speed measurement range: from 0 m/s to 50 m/s
Wind speed accuracy: ± 1 m/s (at speeds up to 5 m/s), ± 10% (at speeds above 5 m/s)
Atmospheric pressure measurement range: 700 hPa to 1100 hPa
Measurement interval:

inside: 60 s
outside: 16 s

Transmission range: ± 100 m in the open air
Frequency:

weather station: 868,3 MHz
WiFi: 2.4 GHz
max. radio transmission power: up to 20 mW

Power supply (main unit):

Power supply: 5 V / 1 A (included)
battery: 3x AAA (not included)

Power supply (sensor):

Built-in solar panel
battery: 2x AA (not included)

Dimensions:

main unit: 188 x 118 x 21 mm
sensor: 338 x 296 x 214 mm

The weight:

main unit: 240 g
Sensor: 580 g