Product description: Sensor of the current ACHS-7123
The sensor is based on Hall effect, itis suitable to use in 5 V systems. The minimum sensor's supply voltage is 4.5 V, maximum - 5.5 V.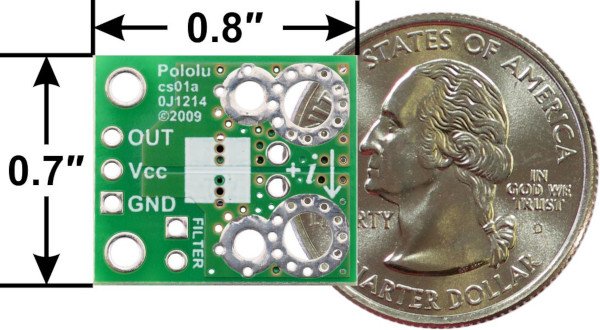 The main features of the system
The system was designed for the current flowing in both directions (from -30 to 30 A), in our offer available are also

other versions.
A small losses of power

low resistance of the conductive path (0,7

mΩ

)

the PCB is made of copper with a thickness of 70

µm

The current paths are isolated from a current path

The possibility to install anywhere

Work in a wide temperature range from-40 °C to 110 °C
Accuracy at room temperature: 1,5 %
Bandwidth of up to 80 kHz (reduction by using the appropriate capacitor)
The connection method of the system
The sensor requires connecting of a voltage supply from 4.5 V to 5.5 V over the fields VCC and GND. The output is analog voltage proportional to measured current (66 mV/A, centered at 2.5 V).
Input current (IP+ and IP-)
The logical power (VCCandGND)
Sensor's output (OUT)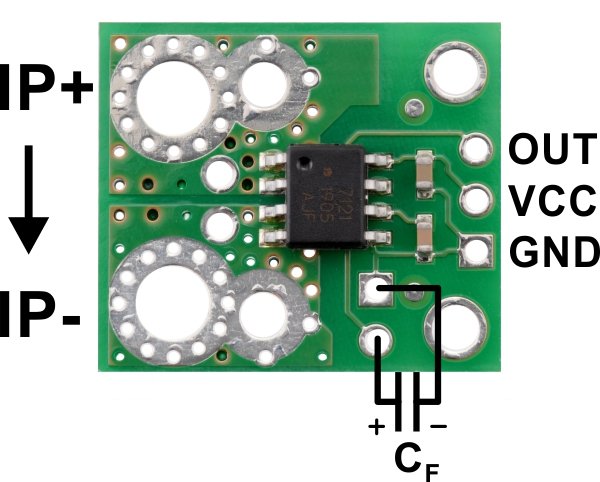 FILTER pin allows youto configure the bandwidthof the board by adding a capacitorCFto ground in parallel with a capacitor of 1 nF. Without the additional filter capacitor, the transmission bandwidth is 80 kHz. More information about the impact of the external capacitor of the filter on the bandwidth, is inthe catalogue's note.
Charts and dimensional diagrams 
Diagram with dimensions is availablehere(PDF)
Technical characteristics of the current sensor
Supply voltage: 4.5 V to 5.5 V
Suitable to use in 5 V systems
Sensitivity of power supply: 0,066 V/A
Supply current: 15 mA
Dimensions: 17,8 x 20,3 mm