Description
The module based on the system Atmel SAMD21, designed for IoT projects. Equipped with aCortex-M0+. It has2 MB of Flash memory, 8 MB SRAM. In addition, the system is equipped with aFPGA Cyclone 10system having16 thousands of logic units. On the board is also a moduleU-blox Nina-W10enabling thewi-fi and Bluetoothconnection. Vidor 4000 operates with a voltage of3.3 V.
Tile has many connectors:
MicroUSB,
MicroHDMI,
Connector for battery 3.7 V,
Connector for MIPI camera
Connector for mini PCI Express
Key features
Below are a few features that distinguish modules Arduino compared to other programmable tiles.
Name
Description

Installed

bootloader

Thanks to installed bootloader, for programming the device sufficient are micro usb cableandthe software from the manufacturer's website.

Small

size

This version is characterized by small size: 83 x 25 mm. It has soldered male 

connectors from the bottom

and female

connectors on the top

.

Connection of

Wi-fi and Bluetooth


Arduino Vidor 4000 has a built-in module Nina enabling wireless transmission of wi-fi and Bluetooth.

Module FPGA

Module FPGA based on system Cyclone 10 from Intel company, with 16 000 logic units.

Serial communication

The device supports popular communication interfaces, including UART, I2C and SPI.

Built-in memory

Chip

Atmel

SAMD21 is clocked with a signal at a frequency of 48 MHz, has 2 MB of Flash memory and MB of SRAM.

Power 5 V


microUSB / battery 3.7 V

To power the Arduino, you can usea power sourcewith a voltage of 5 V with a microUSB connector and the batteryLi-Pol 3.7 V 1S with the capacity of at least 700 mAh.

Charging the battery Li-Pol

The module has the function of powering the battery with the voltage up to 4.2 V with capacity of 350 mAh.

Built-in led

The connected led on pin 6, allows debugging simple programs.

Additional connectors

The module has additional connectors mini PCI Express, MIPI, microHDMI, charger for lipol.
First run
To help you get started with the module, a manufacturer provides the user manual that applies to the installation and first run of the Arduino environment.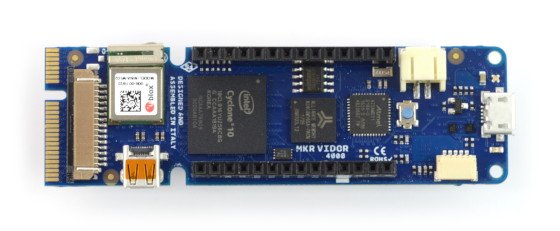 Specification
Syste, FPGA: Cyclone Intel 10CL016
Connector miniPCI Express with programmable pins
Connector of camera: MIPI
Supply voltage of the logic part: 3.3 V
Digital pins I/O: 22 pins 2,54 mm + 25 pins mini PCI Express
PWM on all pins
UART: up to 7 (depending on settings FPGA)
SPI: up to 7 (depending on settings FPGA)
I2C: up to 7 (depending on settings FPGA)
Current on pins I/O: 4 or 8 mA
The main system SAMD21
Flash memory: 2 MB
Memory SDRAM: 8 MB
Frequency: 48 MHz
Video output: microHDMI
Power: microUSB or lipol 3.7 V
Lipol connector: 2 pin pitch of 2.00 mm
Dimensions:

83 x 25 x 20 mm