Product description: B-GSMGNSS Shield v2.105 GSM/GPRS/SMS/DTMF + GPS + Bluetooth - for Arduino and Raspberry Pi
This module is compatible with Arduino and Raspberry Pi. It allows GSM and GPRS communication as well as GPS + GLONASS and Bluetooth communication. Based on Quectel MC60 chip, allows to make voice calls, send SMS messages, determine GPS position and establish communication via Bluetooth 3.0. On the board there are: 2 connectors for SIM cards (dual SIM), a slot for a microSD card, which allows you to store data, audio output and input in the standard Jack 3.5 for connecting headphones and microphone and u.FL sockets for mounting an external antenna (in our offer you will find the appropriate adapters).
Technical specification of the module
Controller: Quectel MC60
Supported standards: GSM / GPRS
Frequencies: 850 / 950 / 1800 / 1900 MHz
Integrated GSM antenna - possibility to connect an external antenna via u.FL.
Supports the DTMF standard
Dual SIM option (one active at a time)
Support for AT commands
GPS + GLONASS support: support for active and passive GNSS antennas
5 power supply options
UART: from 2.8 V to 5 V
Choice of power source via jumper:

USB
Built-in 5 V regulator
VIN input voltage

Built-in connectors:

for SIM card ( 2 pcs. dual SIM)
miniUSB - built-in UART to USB converter(cable sold separately)
Jack audio outputs for connecting headphones / speakers (800 mW)
Jack audio input for microphone
u.FL connector for external antenna(antennas and u.FL - SMA adapters sold separately)

No connectors for Arduino included
Also compatible with Raspberry Pi
Push button RESET button on Arduino
Works with Raspberry Pi: 3, 2, B+, A+
Three mounting holes diameter: 3 mm
Board dimensions: 83 x 54 mm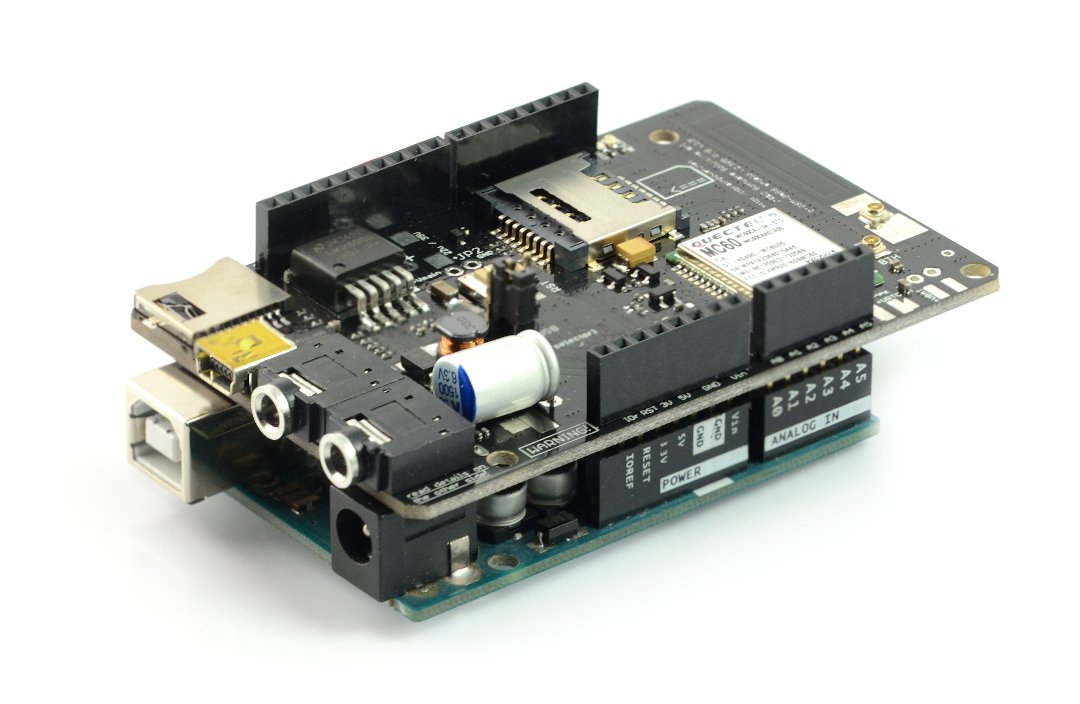 In our offer is also available B-GSMcap with connectorsfor self-soldering.
Device needs good quality power supply. It is recommended to use external power supply min. 5 V / 1 A for USB or 12 V / 500 mA for Vin. Do not power the cap from computer USB port.
Connection to Arduino
The chip works as an overlay for Arduino, using the following pins:
| Pin | Arduino | Description |
| --- | --- | --- |
| GSM RX | D2 | Communication via serial interface. |
| GSM TX | D3 | Communication via serial interface. |
| PWRKEY | D7 | Control of the GSM system power supply voltage (On/Off). |
| STATUS | D5 | Status output. |
| RESET | D6 | Reset of the GSM chip. |
| ARD-RESET | RST | Arduino RESET output. |
| 5V | 5V | Supply voltage 5V. |
| Vin | Vin | Vin input voltage. |
| GND | GND | Ground of the chip |
Example projects for Arduino:
Connecting with Raspberry Pi
In order to run the module from Raspberry Pi, the following connections need to be made:
| Pin | RPi | Description |
| --- | --- | --- |
| GSM RX | 08 | Communication via serial interface. |
| GSM TX | 10 | Communication via serial interface. |
| PWRKEY | 16 | Control of the GSM system power supply voltage (On/Off). |
| STATUS | 12 | Status output. |
| RESET | 18 | GSM chip reset. |
| 5V | 02/04 | Supply voltage 5 V. |
| GND | 06/14 | Chip ground |
Example programs for Raspberry Pi: