Description
Mp3 Shield is able to play music files stored onthe microSD card. The system of VS1053decoder allows you to read all popular audio formats: MP3, Ogg Vorbis, MP3, AAC, WMA, MIDI. Board has a built-in slot for memory card, due to this, it requires no additional modules.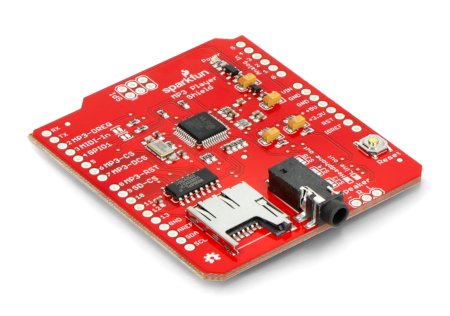 Shield communicates withArduinousing the SPI bus, the signal flow is dedicated in the system VS1053 and is transmitted directly to the headphone output (speaker) Jack 3.5 mm. The service of the module is facilitated by the user's manualandsample programfor Arduino.
Specification
Power supply: 5 V (from Arduino pins)
Communication with Arduino: SPI bus
Supported formats:

Ogg Vorbis/MP3/AAC/WMA/MIDI

Output: headphone/speaker 3.5 mm jack connector
The kit does not containconnectors,you can buy them separately.