Product description: The magnetometer GY-271 3-axis digital I2C 3.3 V / 5V - HMC5883L
Sensor to measure a magnetic field in three axes. It is characterized by small size, low power consumption and simplicity. It communicates via the I2C bus. Thanks to the built-in regulators, it works with voltages like 3.3 V and 5 V.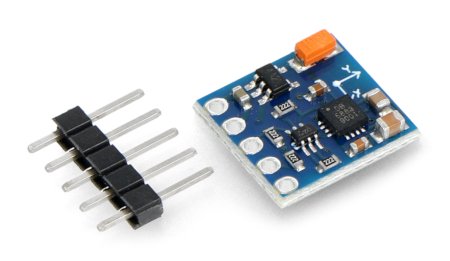 For communication with the central unit, the popular I2C bus (TWI) is used. The module has necessary for the correct operation of the system, passive elements. Pins are the popular goldpin connectors for connecting the sensor viawiresor to directly attach tothe breadboard.
The product is compatible with Arduino
The device comes in two versions: with HMC5883L or QMC5883 system.
In the case of the module with the system QMC5883, you should use a library for Arduino from GitHub.
Available is also an even older version of the module with HMC5883L system. For this system, you need to use
the library along with a sample program for users of Arduino.
Pins
The sensor has five pins for self-installation of the goldpin connectors - pitch of 2.54 mm (included). In order to use alibrary for Arduino, you should connect the module in accordance with the array below.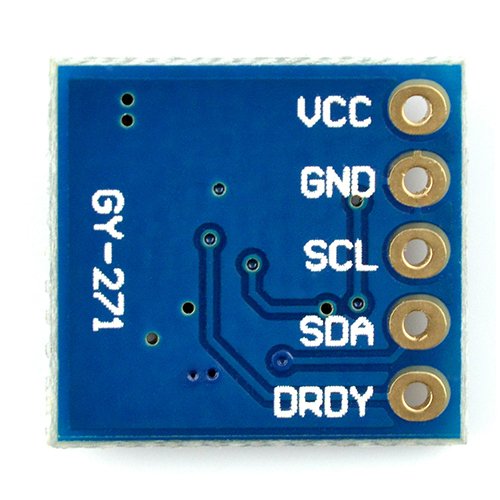 | Name | Arduino | Description |
| --- | --- | --- |
| VCC | 5V | The module's supply voltage in the range from 3.3 V to 5.0 V |
| GND | GND | The ground of the system. |
| SCL | A5 | The clock line of the I2C bus (TWI), it tolerates the voltages from 3.3 V to 5.0 V. |
| SDA | A4 | The data line of the I2C bus (TWI), it tolerates the voltages from 3.3 V to 5.0 V. |
| DRDY | - | The external interrupt, to signal by the low status, the data availability. By default, it is pulled up to the supply voltage. |
Specification of the magnetometer GY-271
Supply voltage: from 3.3 V to 5.0 V
The operating voltage of the pins: from 3.3 V to 5.0 V
Consumption of current: 1000 uA
Three axes: X, Y, Z
Communication interface: I2C (TWI)
Built-in resistors of 2.2 kΩ pulling up the SDA and SCL lines
Resolution: 12 bits for each axis - 2 miles gaus
Measuring range (configurable): ±8 gaus
Introduction: goldpin connectors, 2.54 mm pitch (included in the kit for self soldering)
Board sizes: 14 x 13 mm