Product description: Bearables Bear Kit - buttons with LEDs and motion sensor
Bearables Bear Kit is a complete set of buttons for children witha movement sensorthat includes blinkingLEDs. The kit includesconductive threadto connect the two buttons, as well as the necessary needles. The whole is stylized with the motif of the forest, attractive for the little ones. The manufacturer offers a gift of 2 sets of stickers.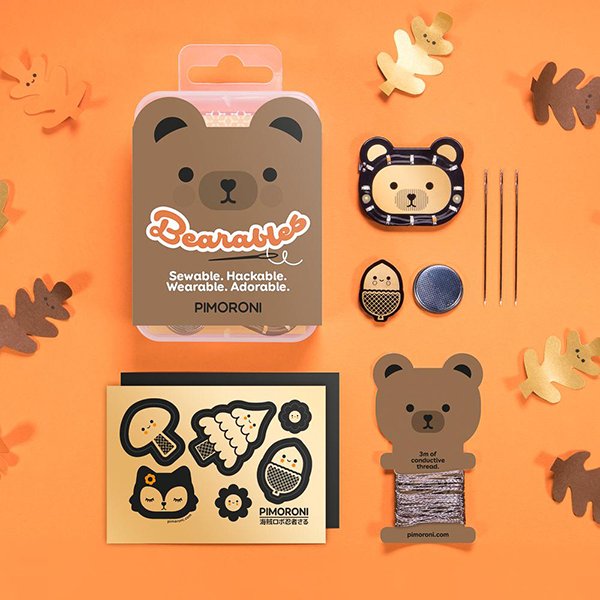 Bearables Bear Kit - set of stickers with LEDs and motion sensor
Attaching the Bearables Bear Kit to the clothing
Button can be sewed on any clothing, backpack or bag. Attached thread allows you to not only mount these interesting gadgets but also to connect them to work dependently on each other. Smaller button in the shape of an acorn, includesa motion sensor, which triggers the blinking LEDs in the larger button in the form of a teddy bear. Without connecting, a bigger button can glow independentlythanks to the push-button.
Buttons' operation 
Smaller button that contains the motion sensor triggersthe LEDs. Bigger button has12 different models of glowing which can be chosen using the push-button. A short press toggles the patterns. A long press of the button makes the device go tosleep mode, thus saving energy consumed byCR2032 battery. The battery life is 3-4 days at working without a break. It should be noted that the device, after 60 minutes of inactivity, automatically goes into sleep mode what significantly extends battery life.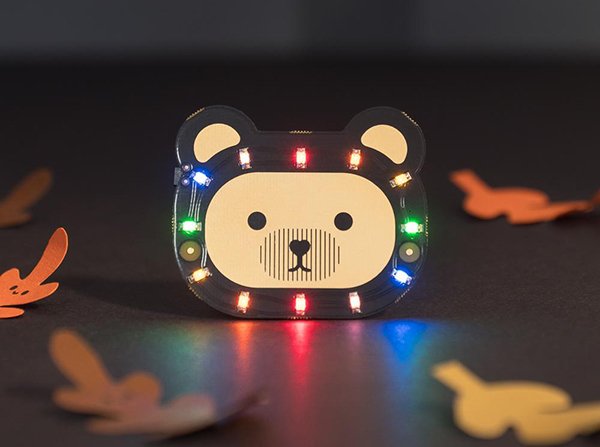 Glowing LEDs in a bigger button from Bearables Bear Kit
Specification of Bearables Bear Kit - the set of buttons with LEDs and motion sensor
Battery powered withCR2032 battery
Set includes:

Button in the shape of a bear with 12 LEDs
Button in the form of an acorn with motion sensor
3 meters of conductive thread to connect button
3 needles
CR2032 battery
2 sets of stickers
User manual

12 patterns of glowing
Multi-function button (the change of the pattern of illumination, sleep mode, turning on)
The PIC16F1503 microcontroller
Sizes of the larger button: 41 x 35 x 5 mm
The smaller button's sizes: 25 x 18 x 4 mm
The ability to connect tothe Raspberry Pi