Product Description: Pressure Sensor LPS35HW - Waterproof - STEMMA QT - Adafruit 4258
Pressuresensor with integrated LPS35HW chip. The measuring range of the module is from 260 hPa to 1260 hPa, with an accuracy of +/- 0,1% hPa. It can be used in places with high humidity, because the sensor circuit has been protected with a special gel, which prevents the ingress of moisture and the formation of interference. It is equipped with STEMMA QT connectors, which allow for convenient connection of the element, without the need of soldering goldpin connectors. Goldpin strip with 2,54 mm pitch is included in set.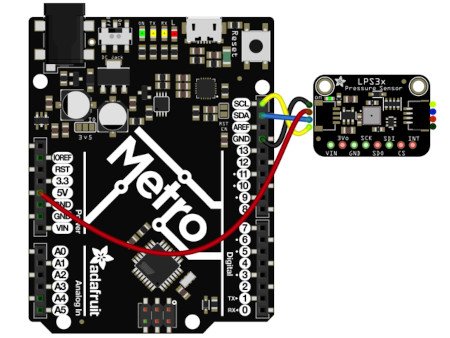 Example connection diagram of pressure sensor using STEMMA QT connectors and Metro board, compatible with Arduino. Metro board is not a part of the kit, you can buy it separately in our shop.
Sensor connection diagram and pinout description
Sensor can be connected in two ways: using goldpin connectors included in kit or via built-in STEMMA QT connector. Example connections are presented using contact board and Metro board, which is equivalent to Arduino. You should connect particular pins according to description below:
VCC - power pin from 3.3 V to 5 V.
3Vo - power supply pin 3 V.
GND - ground pin.
SCK - communication interface bus clock line pin.
SDI - communication interface bus data line pin.
CS - chip select pin.
INT - programmable interrupt pin.
Technical specification of the pressure sensor
Circuit: LPS35HW
Supply voltage: 3 V to 5 V
Measuring range: from 260 hPa to 1260 hPa
Measurement accuracy: +/- 0.1% hPa
Pressure data format: 24-bit
ODR: 1 Hz to 75 Hz
Communication interface: SPI and I2C
I2C communication interface address: 0x5D
Waterproof module: yes
Built-in low pass filter to reduce noise
Connectors: STEMMA QT
Dimensions: 20.5 x 13.5 x 3.5 mm
Weight: 1.2 g
Contents of the kit
Pressure sensor LPS35HW
Goldpin connectors - 2.54 mm pitch