Product description: Pico RGB Keypad - Illuminated keyboard for Raspberry Pi Pico - PiMoroni
KeypadforRaspberry Pi Picoequipped with16 addressable LEDsto createa unique lighting effect. Each button can beindividually programmedand light up in a different color. Also included is a4x4siliconekeyboardoverlaycontaining conductive buttons. Communication between the buttons and the Pico is provided by aTCA9555 IOexpander using anI2Cinterface. On thekeyboardmodule, the locations where the Raspberry Pi Pico should be plugged in have been marked.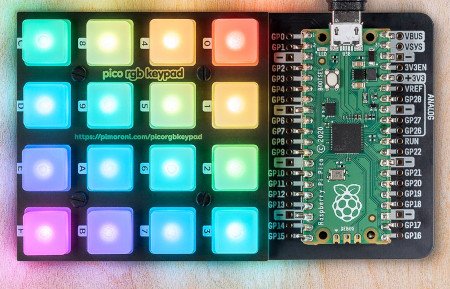 Create your own lighting project using the Pico RGB Keypad.
The kit does not include theRaspberry Pi Pico, you can purchase it separately from our store.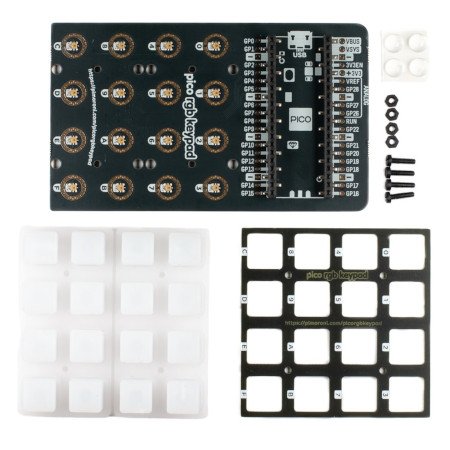 The kit includes the necessary mounting hardware and non-slip pads.
Main features of the keyboard for Raspberry Pi Pico
Equipped with 16 addressable RGB APA102 LEDs
Silicone keypad overlay in 4x4 size with conductive buttons
Buttons connected via TCA9555 IO expander (I2C address: 0x20)
Compatible with Raspberry Pi Pico
Programmable in C/C++ and MicroPython
Dimensions: 60 x 101 x 16 mm
Kit contents
Pico RGB Keypad board
Locating plate, double sided
Silicone 4x4 keypad cover
Mounting hardware - screws and nuts M2 x 8 mm
Anti-slip rubber pads - 4 pcs.