Description
Station Yihua 898BD has two LED displays, which can read the temperature of hot air and flask soldering iron. Temperature adjustment is done using buttons, airflow with knob.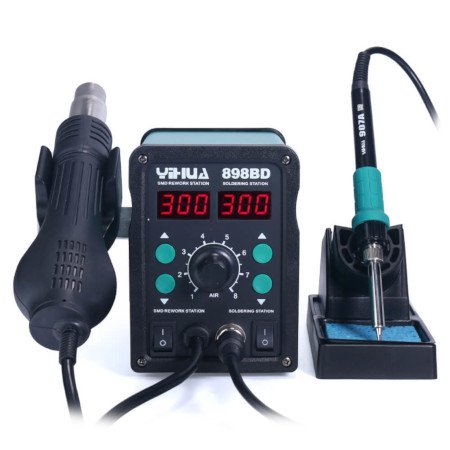 The device has sensor in the mount that, when putting off flask, the station cooles the heating element.
Stable and effective airflow is provided through a fan located in the flask. The fan is driven by a brushless motor, which provides a much higher durability and reliability of the device.

Specification
Supply voltage: 230 V / 50 Hz (network)
Power: 700 W
The control is performed using PID controller
Protection ESD Safe
Automatic cooling of the heating elements after station's shutdown
The station has an ergonomical body
Hotair Soldering Iron
Adjustable temperature of hot air from 100 °C to 480 °C
Temperature stability +/-1 °C
LED display
Temperature setting with buttons
Smoothly adjustable airflow via knob
Airflow up to 120 l/min
The venting is provided through a fan located in the knob
 
Grotto Soldering Iron 
The flask 907A
Regulation of the soldering tip temperature from 200 °C to 480 °C
Capacity: 50 W
Temperature stability: +/- 2 °C
The potential between tip and ground: up to 2 mV
The resistance between tip and ground: 2 Ohm
Includes:
Station Yihua 898BD
Stand for the flask hotair
Set of nozzles:

round with a diameter of 6 mm
round with a diameter of 9 mm
square 12x12 mm

Stand for the grotto flask along with a cleaning sponge
The grotto flask 907 A with a tip T-I
A gripper for lifting chips
First run
After delivery of equipment, it should not be immediately started.
Equipment must remain about 12 hours at room temperature before switching on.
All applications for damages caused by the premature commissioning of the equipment, will be denied.
You must completely remove the screw/screws from the bottom of the station if the source of an air supply is compressor. These screws are marked in red (1 or 3 screws depending on model).
Note
Heating elements (heaters) and the tips are not subject to warranty either expressed or implied, and replacing them is chargeable.
Our range of accessories for soldering: