Description
Digital thermo-hygrometer displays the temperature indoor, ourdoor and the humidity inside. The probe is on a wire. Working range: indoor from -10 °C to +50 °C, outdoor from -50 °C to +90 °C and humidity from 20% to 99% RH. It has the alert feature when reaching low / high temperature. Displays the maximum and minimum values of temperature and humidity recorded during the day, the values are reset automatically every day. The back of the case has a hidden stand.
The device indicates graphically a comfortable temperature and humidity:
smiley face - temperature range 18 °C - 24 °C and humidity 40 % - 65% RH
sad face - when the temperature and humidity have any different values
The device is powered by a single LR44 battery (included).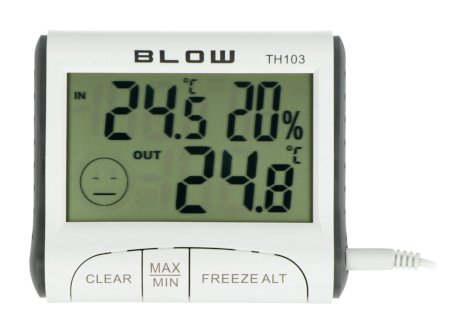 Specification
Measuring range:

temperature:

indoor: -10°C to 50

°C

outdoor: -50°C to 90

°C

humidity: 20% to 99% RH

Graphic display of comfortable temperature and humidity

Has the stand

Power: 1 x LR44 (included)