Attention!
The product has been discontinued. Check others products incategory.
Description
Soldering station of new generation, in which the resistance or ceramic heater was replaced by the a new heating element powered by current of high frequency of 400 kHz that generates electromagnetic field. Principle of operation is the same as in the case of induction cookers, the resulting field causes heating of the receiver, which in this case is the tip.
The advantages of the new heating system
Heats the entire tip (not heated iron)
Rapid heating of the tip compared with the traditional soldering irons
Reduced size of the heating element, which reduces the weight of the iron
A large thermal power
Work comfort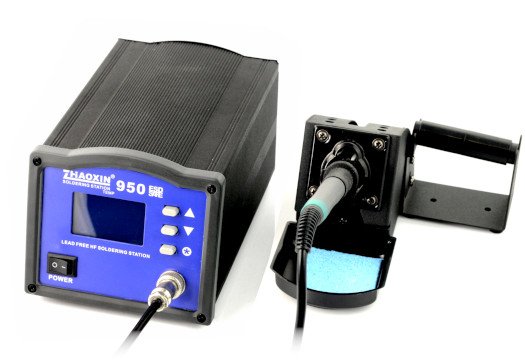 Specification
Voltage: 220 V
The voltage of the heater: 36V / 400kHz
Power:150 W
Continuously adjustable temperaturefrom 200 °C to 600 °C
Temperature stabilization: ± 2 °C
Very light iton - 45 g
Locks the set temperature:access password

Digital display with blue backlight

The display showsthe actual value of the temperature of the soldering tipwith a temperature sensor adjacent to the tip
Made of technologyESD
SLEEP function - working with low temperature when idle
The possibility of cooperation with the unleaded legs
Warranty: 24 months
Dimensions: 130 x 150 x 105 mm
Weight: 4.6 kg
Included
Station Zhaoxin 950
Soldering iron with tip
Stand for soldering iron
Sponge for cleaning the soldering tip
24 month warranty
First run
You should not run the device immediately after delivery.
Equipment must remain for about 12 hours at room temperature before switching on.
All complaints caused by running of the equipment too soon will be denied.
You must completely remove the screw/screws from the bottom of the station if the compressor is the source of air supply. These screws are marked in red (1 or 3 screws depending on model).
Note
Heating elements (heaters) and tips are not subject to warranty, you should purchase new ones.
Our range of accessories for soldering: