Product description: Cytron MD13S - single channel motor controller 30 V / 13 A
Single channel DC motor controller. Continuous current per channel 13 A (momentary 30 A). Supply voltage from 5 V to 30 V. There is a Grove connector on the board. Module controlled by buttons on the board or microcontroller such as Arduino.
Product compatible with Arduino
Example code and detailed information can be found in user guide.
Technical specification of the controller
Supply voltage: from 6 V to 30 V DC
Logic part voltage: 3.3 V or 5 V
Average current per channel: 13 A (momentary 30 A)
Number of channels: 1
Full H-bridge NMOS for better performance without the need for readouts
PWM speed control up to 20 kHz
Grove connector
2 ARK connectors for self-soldering
Dimensions: 61 x 33 mm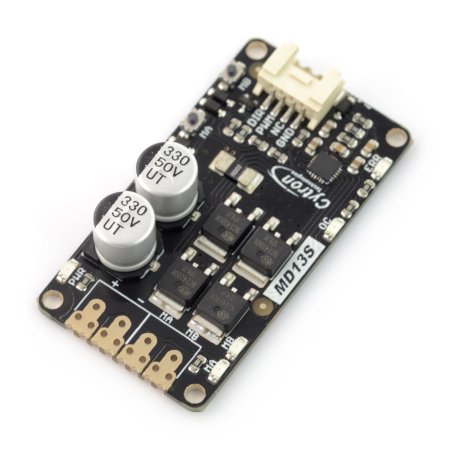 Cytron MD13S - 30 V / 13 A single channel motor controller.
Set includes
Cytron MD10C motor controller
2x ARK connector (black for motors, green for power supply)
Grove cable