Description
Waveshare touchscreen display, capacitive screen with a diagonal of 10.1 " and a resolution of 1024 x 600 px. To the display attached is the control plate HDMI, thanks to which the product is compatible with a variety of equipment and systems, includingthe Raspberry Pi. In the set, a special case for the Raspberry and the screen in black and white.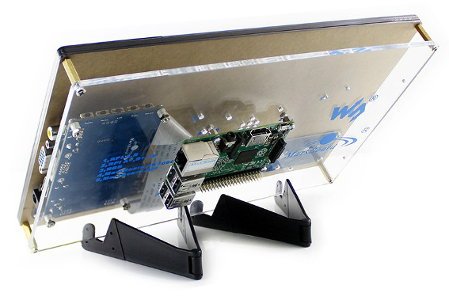 Connect to the Raspberry Pi
In order to run the screen, you must connect the device to a Raspberry Pi via the supplied wire: HDMI and microUSB. HDMI transmits the image, the USB port receives data of the touch interface. The screen must be connected to the driver using the included in set, tape, via the RGB slot - RGB. In case of the absence of the image on the screen, you must select the HDMI signal's source using the buttons of the controller.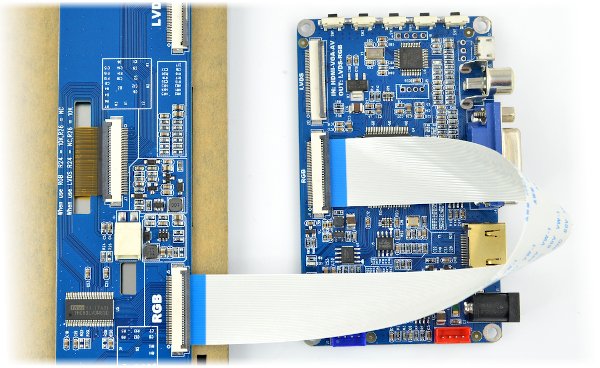 Example of connecting the screen to the driver, which is included in the package.
Specification
Screen type: touchscreen, capacitive
Diagonal: 10,1 "
Resolution: 1024 x 600 px
Works in particular with Rasbperry Pi in version 4B, 3B+, 3B, 2B and B+ Zerowithout installation of drivers for the operating system Raspbian
Can work as a monitor for any device with HDMI, VGA and AV output
Menu in different languages
Control of brightness, contrast, etc.
Screen dimensions: 265 x 170 mm
The case is made of acrylic
Angle of view: 45 °
Set includes
Screen 10.1", touchscreen, capacitive
The display driver
A/C adapter
HDMI cable
The microUSB cable to connect the touch panel
Transparent case
Set of mounting parts