Product description: 6-axis motion sensor - accelerometer and gyroscope - DFRobot SEN0386
Powerful 6-axis sensor combining accelerometer and gyroscope. Allows you to determine the position of an object in space, measure the acceleration and angular velocity. The measuring range for acceleration is ± 2 / 4 / 8 / 16 g, and for angular velocity: ± 250 / 500 / 1000 / 2000 °/s. Utilizes advanced digital filtering technology that contributes to the effective elimination of noise and increases the accuracy of the results, statistically to 0.05 degrees. Powered by a voltage range from 3.3 V to 5 V. It is compatible with popular Arduino microcontroller and derived boards.
The product iscompatible with Arduino
The manufacturer provides a Product Wiki Page, which contains detailed user guide and library for Arduino IDE environment along with sample program code.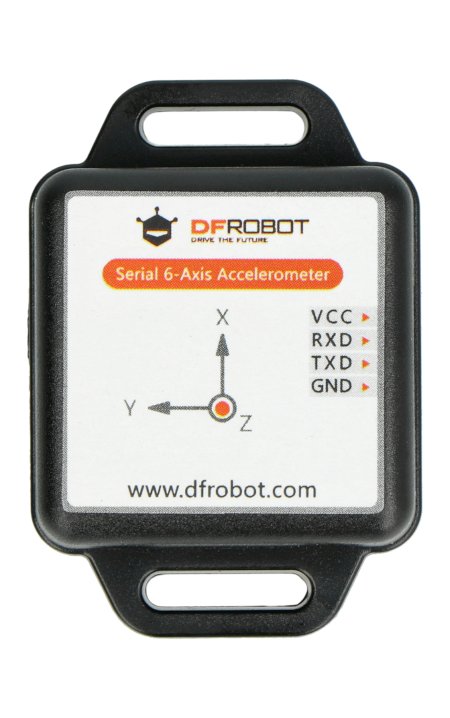 Pins description and connection diagram
Sensor is equipped with a connector, which with use of included cable allows to connect it to microcontroller module. No additional soldering is required. The picture on the right shows the connection diagram with the DFRduino board, which is the equivalent of the original Arduino. The board is not part of the kit, you can buy it separately in our shop. Connect the components according to the pinout below:
VCC - power supply pin with voltage from 3.3V to 5V.
RXD - data transmission pin (D11).
TXD - data transmission pin (D10).
GND - ground pin.
Technical specification
Compatible with: Arduino and related boards
Supply voltage: from 3.3 V to 5 V
Current consumption: < 40 mA
Interface: TTL
Baud rate support: 2400 bps to 921600 bps (adjustable)
Data output: pd 0.1 Hz to 200 Hz
Measurement range for acceleration: ± 2 / 4 / 8 / 16 g (optional)
Measuring range for angular velocity: ± 250 / 500 / 1000 / 2000 °/s (optional)
Setting angle: ± 180°
Dimensions: 51.3 x 36 x 10 mm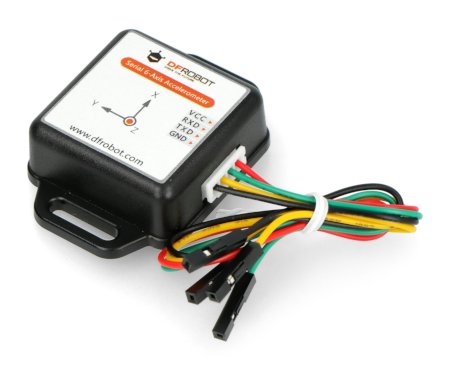 The kit also includes a dedicated connection cable, which allows you to quickly connect the sensor to the microcontroller module.
Contents of the kit
6-axis sensor from DFRobot
Connection cable