Description
Module with digital temperature sensor DS18B20+ having a communication interface 1-wire. Pins are the popular goldpin connectors to connect the sensor to the main unit (e.g. Raspberry Pi,STM32DiscoveryorArduino) viawires.
Specification
Supply voltage: from 3.0 V to 5.5 V
Measurement range: from -55 °C to 125 °C
Accuracy: +/- 0,5 °C in the range from -10 °C to 85 °C
Resolution: 9 to 12 bits
Module dimensions: 22 x 10 mm
Scheme of powering the module with the sensor DS18B20+
On the board, except the thermometer, is a LED, indicating the correct supply connection, and a resistor of 10  kΩ pulling-up the data lines to the supply voltage VCC.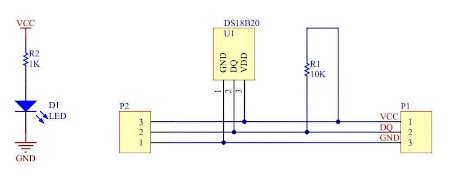 Diagram of the module with temperature sensor DS18B20+.