Description
The sensor to determine the moisture level of the soil. It is powered with the voltage from 3.3 V to 5 V. The output is the analog voltage which increases its value with increasing moisture content which makes it compatible with most of the commissioning modules, for example,Arduino. The device can be used, for example, for measuring the moisture content of the soil in the pot, has holes for soldering the goldpin or screw ARK 3.5 mm connectors.
The product is compatible with Arduino
The manufacturer has prepared a user manual along with a sample program for Arduino.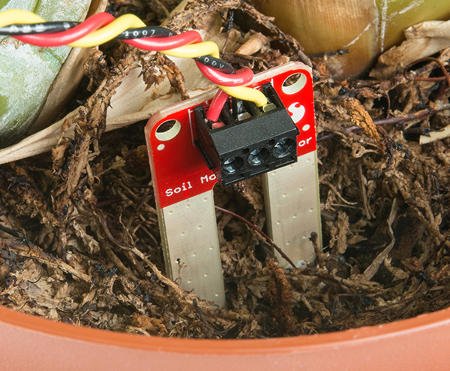 The measuring probe is placed in the pot.
Sensor's maintenance
The sensor has an analog output that should be connected to the pin of the A/D  converter (analog input inArduino). This will allow you to measure the proportional voltage signal, to determine the level of soil moisture.
| Pin | Description |
| --- | --- |
| VCC | The supply voltage of up to 5 V. |
| GND | The ground of the system. |
| SIG | Analog output with the voltage proportional to the moisture level of the soil. |