Description
Fast linear actuator from the SL series is equipped with an error-free mechanical system with a screw with trapezoidal thread. With built-in limit switcheswith a diode, the actuator stops automatically in a preset spot. The change of direction is performed by reversing polarity in the same way as in the DC motors.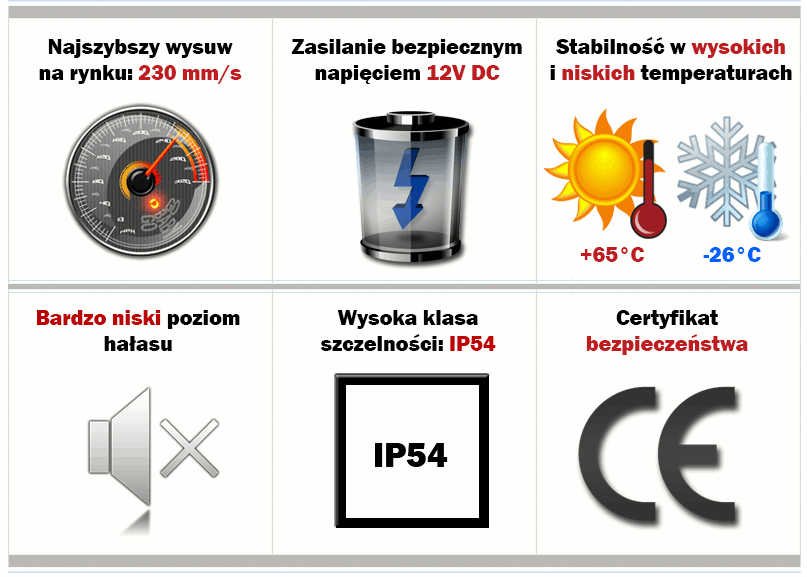 The SL actuator consumes very low power, while at the same working with high speed. The other feature of the device is that it is also very quiet - almost inaudible.
Key features
The fastest stroke in this class of electric actuators
Tightness and resistance to adverse weather conditions (IP54)
Easy controlling and constant power supply voltage 12V DC
Power supply wires put out
High quality performance aluminum
Quiet, accurate and stable operation
Convenient limit attachment
Unlimited possibilities of application
Controled by radio devices, wired remote control or automated control
Technical specification
| Name | Parameter |
| --- | --- |
| Voltage | 12V DC |
| Operating temperature | -26°C to +65°C |
| Housing type | Aluminum |
| Tightness class | IP54 |
| Security | limit switches |
| Speed | 140 mm/sec |
| Max power | 100 N (10 kg) |
| Work cycle | 20 % |
| The length of the stroke | 400 mm |
| Overall length when assembled | 650 mm |
| Weight | 2.35 kg |
Graphics
The following chart shows the dependence of current and speed on the actuator load.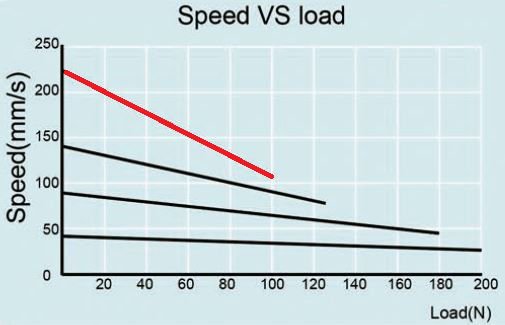 The dependence of rotation speed on load.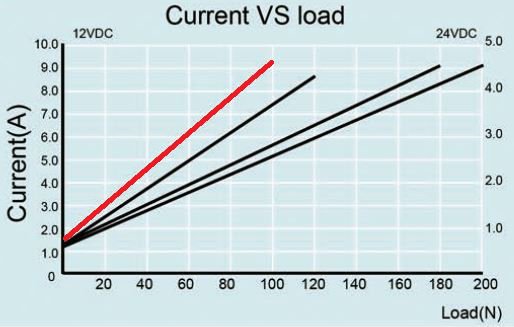 The dependence of input current on the load.
Dimensions
Overall length assembled is 650 mm, stroke length 400 mm, weight of 2.35 kg.

The figure shows the dimensions of the actuator.