Description
Wired proximity sensor activated magnetically. The device is used to determine the position of doors and windows. The operating principle is similar to the one in a traditional relay. The circuit is open by default, when moving closer to the magnet, the circuit is closed, which means that through the wires, the current begins to flow. It has installed layer of adhesive tape for mounting.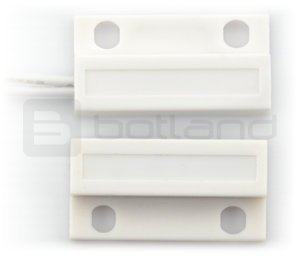 Connection
The sensor can be easily connected to any system with a microcontroller, e.g. an Arduino. Inserting a pulling-up resistor or by running an internal pull-up", read can be done in a digital way.
Communication with Arduino
Verifying the funcionality of this sensor can be done using an attached to the Arduino program DigitalInputPullup, which is in the menu: File -> Examples -> Digital. It is sufficient to connect one sensor's wire to ground GND, the other to the lead no. 2 of Arduino and, when moving the both parts of the sensor closer, built-in L LED connected to pin 13 will light up.
Specification
Working voltage: 200 V DC
Maximum current: 0.1 A
Internal resistance: about 200 Ω
Rated power: 3 W
Range: from 15 mm to 25 mm
Mode of operation: off by default
Case color: white
Mounted layer of self-adhesive tape
Dimensions: 14 x 27 mm
Cable length: approx. 33 cm
Includes:
The sensor with wires
The magnetic element
Self-adhesive tape