Description: Gravity - IoT starter kit for micro:bit - DFRobot KIT0138.
Starting set for themicro:bitminicomputer. Allows you to createsimple IoT projects bynoviceusers. The kit includes such elements as: BBC board micro:bit,extension board micro:mate, WiFi Obloq module, soil moisture sensor, temperature sensor, motion sensor, relay, speaker, sound sensor andservo.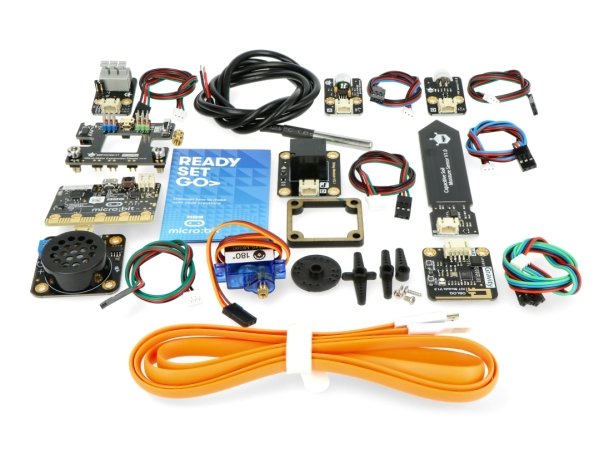 Starter kit content for micro:bit.
The kit comes with a micro:bit minicomputer, WiFi module and 7 sensors/elements that can be used to create IoT applications. In the MakeCode editor you can easily configure the internet connection and program micro:bit to work together with other sensors.
For even easier creation of IoT projects a free educational platform EasyIoT was created.The kit is compatible with hundreds ofGravity seriesdevices, giving your IoT applications infinite possibilities.
L.p.
Photo
Name
1
BBC micro:bit- a minicomputer designed to learn programming for the youngest.
2

Micro:Mate- expansion board -I/O expansion board for micro:bit to learn electronics and build projects.

3

Obloq UART IoT module- theintroductionmoduleto the world of IoT (Internet of Things). It integrates mobile and network technology systems together to create an intelligent system.

4
Analogue soil moisture sensor-

the device is used to measure soil moisture through capacitive detection.

5
DS18B20 waterproof temperature sensor- waterproof

probe equipped with DS18B20 digital thermometer

6
Digital motion detector PIR- the module

allows to detect movement within its operating range, up to 7 m.

7
Relay module- a module

with a relay to control actuators consuming up to 12 A for 125 V or 10 A for 277 V using the microcontroller ports.

8
Digital loudspeaker module- a module based on the

8002 amplifier with a single-wire digital interface.

9
Analogue sound sensor- a module

with a sound sensor equipped with an analogue output.

10
9gservo motor- micro motor with metal gearbox and 180° rotation angle.