Product description: STM32 NUCLEO-L476RG - with STM32L476RGT6 ARM Cortex M4 MCU
Nucleo module with 32-bit STM32L476RG microcontroller, which is equipped with ARM Cortex M4 core clocked at 80 MHz, 1 MB Flash memory, 128 kB SRAM. Nucleo is compatible with mbed platform and has connectors for Arduino Shield overlays. It works with most of popular development platforms including Keil, IAR and GCC compiler based environments. Device is equipped with ST-LINK debugger / programmer.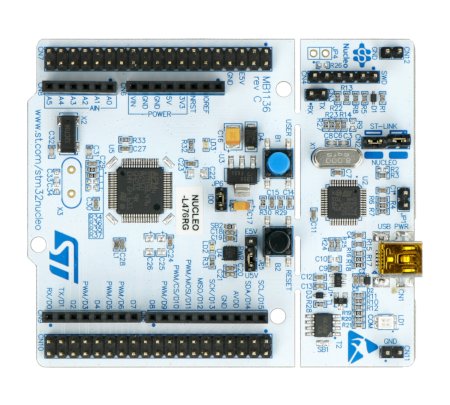 The clock frequency is 80 MHz.
Technical specification
Microcontroller: STM32L476RG

Core: ARM Cortex M4 32-bit
Clock frequency: 80 MHz
Flash program memory: 1 MB
SRAM: 128 kB
DMA: 14 channels
Interfaces: 1 x CAN, 3 x I2C, 3 x SPI, 1 x I2S, 5 x UART/USART, 1 x LPUART, 2 x SAI, 1 x SWPMI, 1 x IRTIM, 1 x USB OTG, 1 x LCD controller, 24 x capacitive touch inputs, 1 x Quad SPI
3 x ADC: 16 bits
2 x DAC: 12 bits
2 x Ultra Low-Power Comparators

Two connector types:

Connectors for Arduino Uno Rev3 compatible overlays
Standard STMicroelectronics Morpho pins, allowing access to microcontroller pinouts

Module compatible with mbed system(mbed.org)
ST-Link/V2 debugger placed on the board with possibility to work as a separate device with SWD output
Possibility to be powered via USB connector
Built-in three LEDs:

1 x indicating supply voltage
1 x indicating communication
1 x user accessible

Two buttons:

1 x RESET
1 x USER at the user's disposal

Three different interfaces via miniUSB (USB re-enumeration):

Virtual COM port
Mass storage
Port for programming/debugging

Module supported by most of the popular environments, e.g: IAR, Keil and platforms