Product description: CANBus module CA-IS3050G - expansion unit for M5Stack development modules
CAN transceiverunitin the form of an extension typeUnitto the development modules of theM5Stackfamily. It is a model of isolatedCAN transceiver, which can providedifferential receptionand differentialtransmission. CAN is an international ISO serial communication protocol and belongs to the fieldbus category. The communication distance can reach10 km- the transmission speed is then lower than5 kbps. On the other hand, to keep the maximum transmission speed of1 Mb/s- the communication range should be less than 40 m.
What is CAN bus?
CANbus(Controller Area Network - Can Bus) is a serial bus that allows bidirectional communication between microprocessors. It was created to strengthen and support systems such as ABS or engine control. It is characterized by reliability and extremely high resistance to interference. It is widely used in modern cars, in construction or industrial automation. CAN bus is a multifaceted solution used in more complex projects. CAN is international ISO serial communication protocol.
CAN unit is an isolated transmitting and receiving unit used to realize a complex communication network. It provides differential reception and transmission and can support up to 110 nodes. The signal speed of a given transmission can reach up to 1 Mbps.
Technical specification of CAN unit from M5Stack
Type: CAN bus transceiver unit
Embedded chip: CA-IS3050G
Rated maximum voltage: 1000 V
Maximum transmission speed: up to 1 Mb/s
Communication range:

up to 10 km - transmission speed less than 4 kb/s
up to 40 m - transmission speed of approx. 1 Mb/s

Number of nodes: 110
Delay: - 150 ns
Operating voltage in common mode: from -12 V to 12 V
Protection: current limit, overvoltage protection, signal isolation, dynamic time-out function
Housing material: plastic (PC)
Module dimensions: 65 x 24 x 8 mm
Weight: 12 g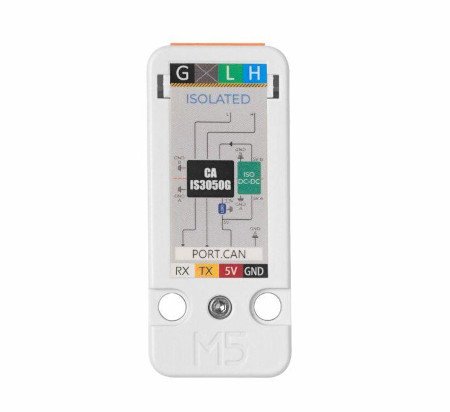 Supported by popular programming environments such as Arduino.
Features
Used as CAN bus communication module
Used in industrial field control projects, security systems
Compatible with a series of development modulesM5Stack
Supported programming platforms: Arduino, UIFlow (Blockly, Python)
Equipped with two holes compatible with LEGO standard
Contents of the kit
CANBus extension module Unit
Connection cable with Grove connector - length 5 cm
In our shop you will also find otherUnittype extensions that will allow you to extend any project according to individual needs.