Attention!
The product has been discontinued. Check other products in category.
Description
The module based on ATSAMW25 Atmel SoC system with wi-fi, designed for IoT projects. Equipped with Cortex-M0. Has8 digital inputs/outputs,12 channels PWM(e.g. for motor control) and7 analog inputswith a resolution of 8 / 10 / 12 bit. The module has10-bit analog DAC output. The system is clocked with the signal ticking at the frequency of48 MHz. I/O operate at a voltage of3.3 V. The module can be powered with battery Li-Pol 1S 3,7 V minimum 700 mAh or charge in case of an external power module.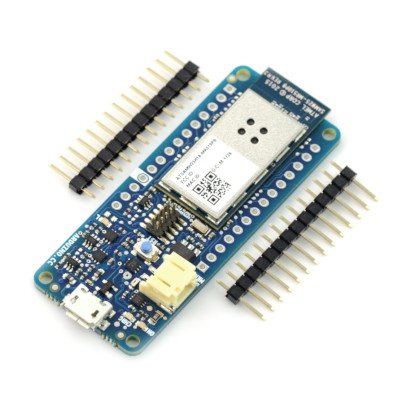 ATSAMW25 consists of three main blocks:
The core SAMD21 Cortex-M0+ low power 32bit ARM MCU
System WiFi WINC1500 low power 2.4 GHz IEEE 802.11 b / g / n
ECC508 CryptoAuthentication
Key features
Below are a few features that distinguish modules Arduino from other programmable tiles.
Name
Description

Installed

bootloader

Thanks to bootloader, only the appropriatemicrousb cableandthe software from the manufacturer's website are necessary to program the device.

Small

size

This version is characterized by small size: 61.5 x 25 mm. It does not have soldered connectors. Included goldpin straps for self-assembly.

Connection

Wi-fi


Arduino MKR1000 can be in a simple way, wirelessly, via wi-fi network, programmed, configured, or modified and the status of pins can be read.

Digital I/O

8 digital inputs/outputs allow, in particular, to control the LEDs, relays and reading the buttons' states.

Efficiency of

current

The maximum current efficiency for one output is 7 mA.

Output

PWM


12 outputs PWM allow, for example, to control the motors and brightness of the LEDs.

Analog inputs

7 inputs of built-in digital-analog converter with a resolution of 12-bits, support, in particular, sensors with analog output.

Serial communication

The device supports popular communication interfaces, including UART, I2C and SPI.

Built-in memory

Atmel

ATSAMW25 system is clocked with a signal at a frequency of 48 MHz, has 256 KB Flash and 32 KB RAM SRAM.

Supply 5 V


microUSB / battery 3.7 V

To power the Arduino, you can usea power sourcewith a voltage of 5 V with a microUSB connector and the battery Li-Pol 3.7 V 1S the volume of at least 700 mAh.

Charging the battery pack Li-Pol

The module has the function of powering battery voltage up to 4.2 V with an intensity of 350 mAh.

Built-in led

The connected led on pine 6 allows debuggowanie simple programs.
First run
To help you get started with the module, we have prepareda tutorial that will help you with the installation and first run of the Arduino environment.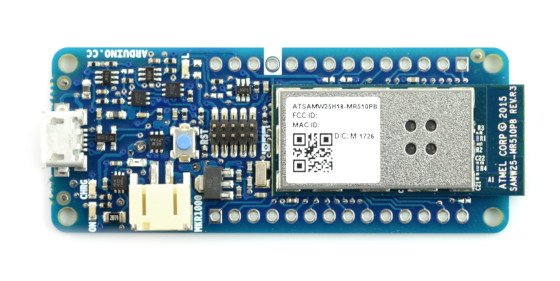 Specification
Voltage from 3.7 V to 5 V
Current consumption: 7 mA

Atmel ATSAMW25 system

Wi-fi WINC1500 low power 2.4 GHz IEEE 802.11 b / g / n

core: Cortex-M0
Maximum clock frequency: 48 MHz
SRAM: 32 KB
Flash memory: 256 KB
I/O Ports: 8
PWM outputs: 12
Number of analog inputs: 7 (channels of converter with 12-bit resolution)
Serial interfaces: UART, SPI, I2C
External interruptions

MicroUSB slot
JST slot
Connectors goldpin for self-soldering
Tile sizes: 61,5 x 25 mm
Weight: 32 g
Attention!
Tile series Arduino NKR has minor visual defects which the manufacturer i.e. the company Arduino explains it by improving parameters of the new machine. We guarantee that all tiles marked with a symbol Arduino are genuine and come from the same source. As you can see by checkingthe list of authorized distributors.