Attention!
The product has been discontinued. Check other products incategory.
Description
The module is an extension forArduinofrom the MKR series with two built-in relays. In addition, the board has a screw connectors and place for prototyping. It communicates via digital pins. It works with a voltage of 3.3 V.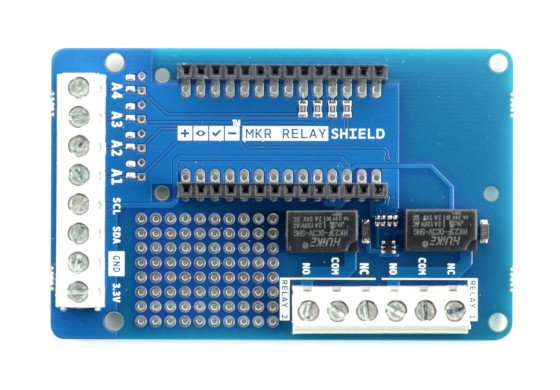 Service
The board has two relays supported by pins 1 and 2. In addition, it simplifies the connection via screw connectors of the following pins: A1 to A4, I2C interface and power pins.
The product is compatible with Arduino
On the internet, you can findexamplesof operation of the module.
Specification
Working voltage: 3.3 V
2 relays with outputs NO, NC and COM
Maximum current: 2 A
Maximum voltage of relays: 120 VAC, 24 VDC
Compatibility: it works with Arduino from series of MKR
Module dimensions: 80 x 50 x 15 mm (with pins)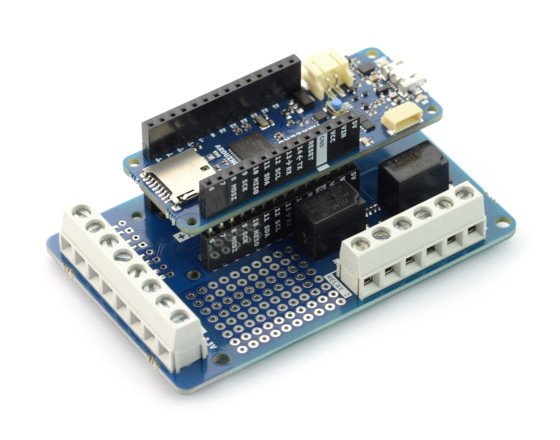 The subject of the sale is the shield.Arduinomust be purchased separately.
Attention!
Board series Arduino MKR has minor visual defects which the manufacturer i.e. the Arduino company explains with working on parameters of the new machine. We guarantee that all boards marked with a symbol Arduino, are original and come from the same source, as you can see by checking the list of authorized distributors.