Description
Module for Arduino from the MKR that extends the capabilities of I/O pins. It is designed for modules and sensors from the Grove series. It has 4-pin connectors, works with voltages of 3.3 V and 5 V.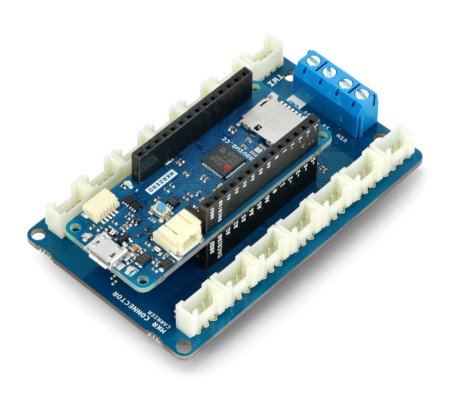 Specification
14 Grove connectors: 4-pin
Screw connections for power supply
Analog inputs: 6 with voltage of 5 V
Digital inputs / outputs: 6 with voltage of 5 V
Others:

1 x UART: 5 V
1 x I2C: 5 V

Supply voltage: 5 V
The operating voltage of the logic of the system: 3.3 V
Compatible with Arduino MKR
Dimensions: 80 x 50 x 13 mm
Attention!
Board series Arduino MKR has minor visual defects which the manufacturer i.e. the Arduino company explains with working on parameters of the new machine. We guarantee that all boards marked with a symbol Arduino, are original and come from the same source, as you can see by checking the list of authorized distributors.