Attention!
The product has been discontinued. Check others products in category.
Product description: Clamp meter UNI-T UT203
Clamp meter allows you to measure DC and AC up to 600V, flow, AC and DC current up to 400A, resistance and frequency. It has an automatic range selection, continuity is indicated via an acoustic signal. The device has a recording function, the last measuring result. The meter is powered by the popular 9V battery, which is also included. Everything is closed in a protected, original packaging, along with an aesthetic black case.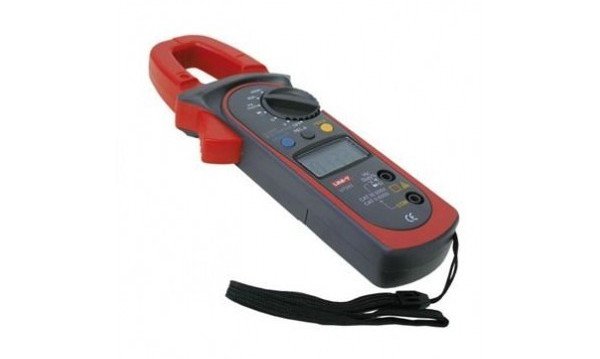 UT203 includes:
Test leads
Aesthetic and practical case
9V battery
Instructions: in English and Polish
Warranty: 24 months
Specification of UNI-T UT203
Measurement DC voltage range: 400 mV / 4V / 40V / 400V / 600V

average accuracy

: (0,8% +1)

Measuring AC voltage range: 4V / 40V / 400V / 600V

average accuracy

:

+/-

(1% +5)

Current measurement DC range: 4A / 400A

average accuracy

:

+/-

(2% +3)

Current measurement AC range: 4A / 400A

with an average accuracy

: +/- (2,5% +5)

Measuring resistance range: 400

Ohm

/ 4 k

Ω

/ 40 k

Ω

/ k 400

Ω

/
4 M

Ω

/ 40 M

Ω

average accuracy

:

+/-

(1% +2)
Measurement frequency range

:

10 Hz - 1 MHz

with an average accuracy

: +/- (0,1% +3)
Automatic range selection
Led

Audio signal (conductivity)

Data hold
Sleep mode
Battery indicator
Power supply: 9V battery (6F22)

Display: LCD 1999 (60 x 54 mm)

Dimensions: 210 x 75,6 x 30 mm
Weight: 200g