Attention!
The product has been discontinued. Check others products incategory.
Description
The sensor detecting in the air,the concentration of the carbon monoxide (CO). It is powered by three AA batteries (included). It is used forwarning about dangerous for human, gas, with the audio signal. The sensor has a light and sound alarm. It is equipped with an electrochemicalsensor of the Japanese company Figaro. It has a button Test / Reset that allows you to check the correct operation of the device.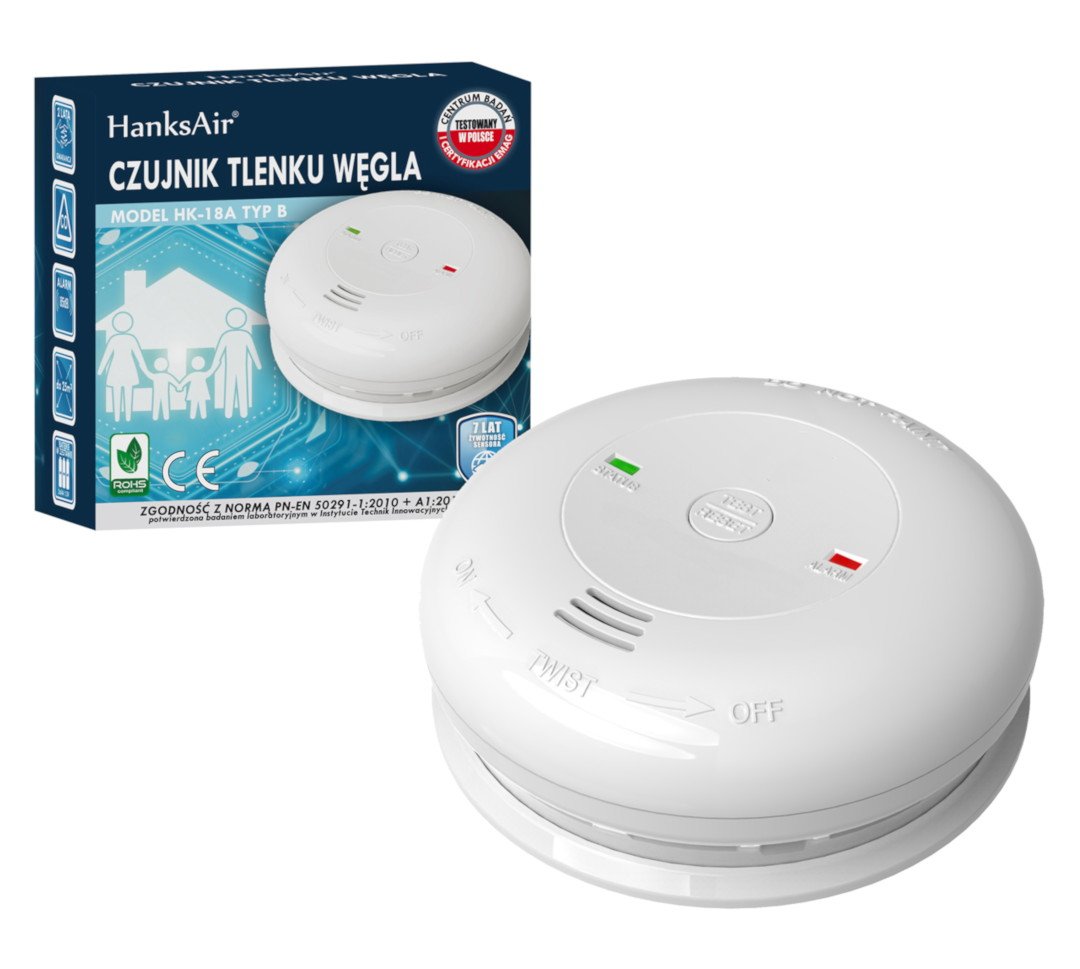 In case of improper operation or low battery level on the LCD panel, displayed is the appropiate graphical information and turned is an audible alarm.
The sensor was tested in the Polish Institute of Innovative Methods in the Laboratory of Gasometer Devices and corresponds to the normPN-EN 50291-1:2010 + A1:2013-05for home carbon monoxide detectors.
Attention!
Before connecting, see the instructions attached to the kit.
Specification
Model HanksAir HK-18A
Sensor: electrochemical CO sensor by Figaro company
Power supply: 3x battery AA of 1.5 V (included)
Operating temperature: 0°C to 40

°C

Storage temperature: -20°C to 50

°C

Humidity: 30 to 95% RH

Range of detection: 25 m2
Signal form: 3 series of short sound signals at intervals of 0.5 s, light signal via LEDs
Alarm volume: more than 85dB / 1m
Service life: 7 years from the date of production
Dimensions: 107 x 107 x 40 mm
Included
Sensor of the carbon monoxide HK-18A
Screws and mounting pegs 
The user manual
Finds application in:
Home boiler rooms with stoves of CO fired with the solid fuels and inflammable gas
Kitchens, bathrooms equipped with gas device
Local garages with cars with LPG installation
School physical-chemical laboratories
Public areas