Attention!
The product has been discontinued. Check other products in category.
Product description: Temperature and humidity sensor AF5485 - RS485
High quality industrial temperature and humidity sensor AF5485. It measures temperature from -40°C to 80°C and humidity from 0% to 99.9% RH.It uses anRS485interface for communication.Powered by 9 V to 36 V.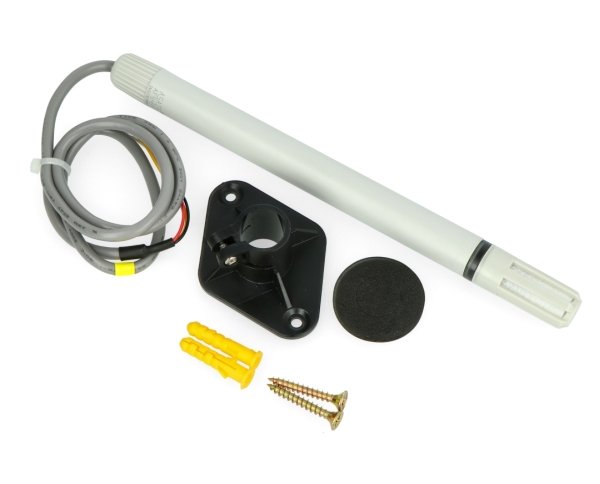 Contents of AF5485 temperature sensor kit.
Main features of the AF5485 sensor
Wide measuring range
High precision measurements
Fast response time
RS485 communication
Connection of temperature and humidity sensor
The sensor is equipped with an RS485 interface for data transfer to the main device. It is powered from 9 V to 36 V.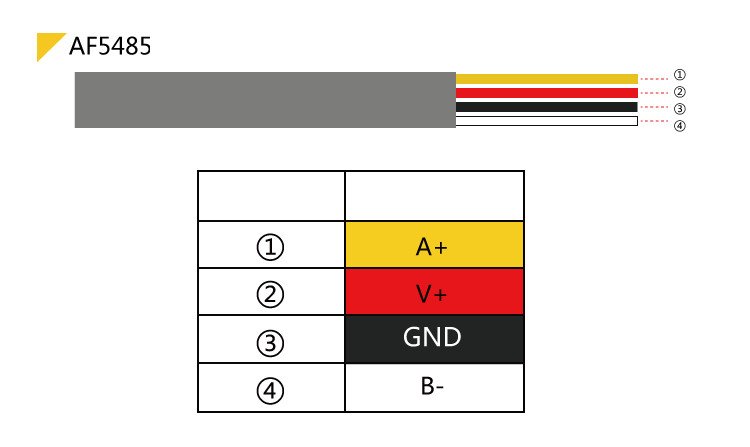 Description of the sensor outputs AF5485.

Example connection diagram.
Application of the AF5485 sensor
Industrial automation
Weather station
Monitoring of room temperature and humidity
Sensor specification AF5685
Supply voltage: 9 V to 36 V
Current consumption: up to 15 mA
Communication: RS485
Measuring range:

humidity:

from 0% to 99.9% RH
resolution: 0.1% RH
Drift: 0.1% RH/year
Sampling time: 2,5 s

temperature:

from -40°C to 80°C
resolution: 0.1°C
drift: 0.1°C / year
Sampling time: 2,5 s
Set contents
1x sensor AFF5485
2x dowel
1x the handle